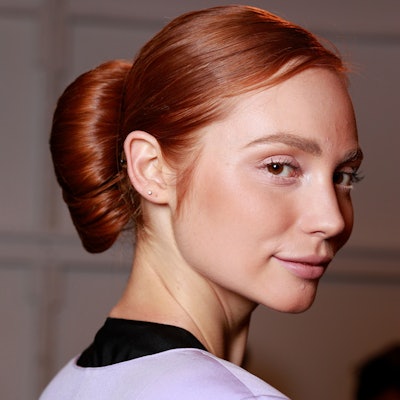 With a collection inspired by the paintings of Claude Monet, designer Zang Toi's "Glorious Giverny Garden" show captures Parisian influences—both earthbound and artful—and these directly inform the beauty look. For the hair, Macadamia Professional Lead Stylist Eiji Yamane crafts a chic double French chignon, evoking the look of beautiful flowers blooming in a French garden. "When I looked at Monet's paintings I saw these large flowers—they popped out," says Yamane. "I thought to create a chignon with [that same] shape [makes sense]."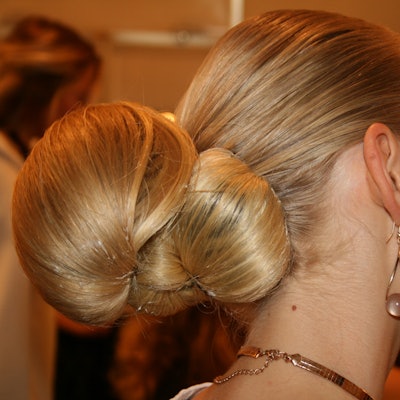 He preps the hair with Macadamia Professional Blow Dry Lotion, blow-drying it smooth and straight. Then, Yamane parts the hair over the left eye, moving diagonally to the right side of the head and stopping at the crown. He pulls the hair back into a sleek and tight low ponytail at the nape of the neck. Using a curling iron, he curls the entire ponytail for texture and girth before separating the ponytail into two sections. Yamane then wraps the left section of the ponytail up and over to the right, forming a small loose bun, and locks it into place with a bobby pin and Macadamia Professional Style Lock Strong Hold Hairspray. To finish, he wraps the right section of the ponytail up and over to the left, creating a double bun with the second bun larger than the first. A touch more hairspray and Macadamia Professional Weightless Moisture Dry Oil Micro Mist freezes the sculpted design in place while adding the shine necessary for such a curvy style.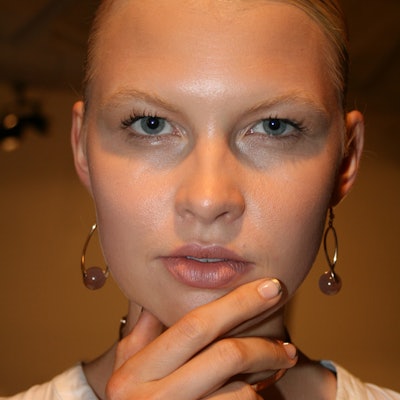 Not surprisingly, the makeup focuses on the unblemished complexions and luxe lashes of French women. "This look is about the chicness and effortlessness of Parisian women," says UBATI New York Lead Makeup Artist Rudy Miles. "It's about flawless skin and their amazing lashes." Miles starts perfecting the skin with UBATI Foundation Sticks and foundation powder over the entire face. Leaving the eyelid bare, he applies nude liner to the water line before turning his attention the lashes. With a tweezer and a steady hand, Miles carefully glues small clusters of Battington Lashes to the lash line. "We are cutting off individual pieces from the full lashes to create the spikes and lush lashes we need," Miles explains.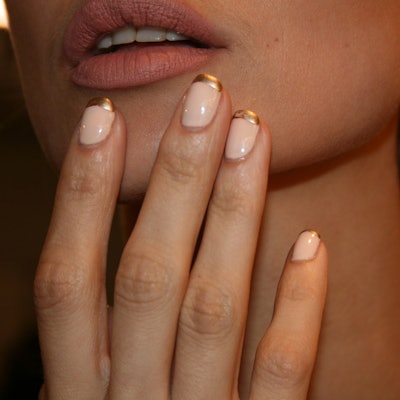 The nails are classic but with a playful and modern edge. Keeping in line with the theme, GLAMSQUAD Lead Nail Artist Christina Quercia creates a French manicure edged with a sparkling gold tip. Quercia starts with a coat of Essie Brides To Be, followed by a coat of Fed Up, and finishes by painting the tip using a striper brush and Essie Good as Gold.