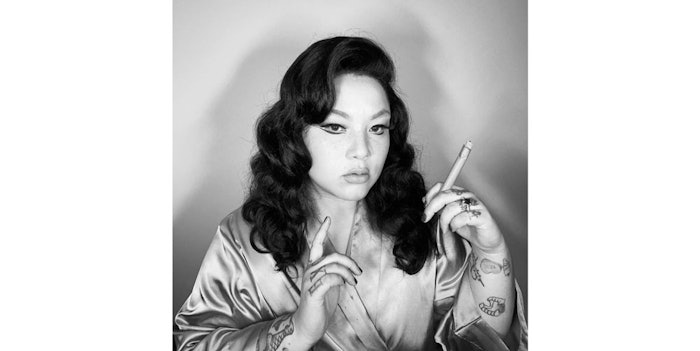 Without a doubt, a television show that is always serving up scary feels is American Horror Story. And with less than a week before Halloween weekend, who better to give makeup tips than the show's key makeup artist (MUA), Ana Gabriela Quiñonez?
Beauty Launchpad caught up with Quiñonez to learn about shooting makeup in black and white, nailing the perfect retro makeup look and tackling the challenges around pigments and skin undertones.
Beauty Launchpad (BLP): What tips and tricks do you have for shooting makeup in black and white? Do you have a how-to that will help other MUAs?
Ana Gabriela Quiñonez (AGQ): It is all about light and shadow balance. For example, the 1950's were known for their red lips, but we needed to use corals and pinks to make them look red in black and white. If we had used red, it was too rich, so it would have translated into the lips looking too dark. We also would use light concealers to brighten features on the face, and darker foundations to create depth where needed. RCMA Makeup concealers and foundations were great for this. RCMA foundation was a great help achieving these looks for its smooth full-coverage formula. Any blemish on the skin reads darker in black and white, so a full coverage foundation was a must for me. The RCMA Setting Powder locked everything in place and kept us with minimal touch-ups. It was our go-to. A great trick I've learned is setting your phone camera in noir and checking your makeup. That's how you will learn quickly if the look works and achieves the tones you want.  
BLP: What is your advice for creating period makeup? 
AGQ: My advice for creating a strong period makeup is all about research. Eyebrows and lip shapes always give away the year. This is when I stay away from the internet. Go to books and magazines from the period you are trying to achieve. The internet should never be your only form of research. 
Another tip is to try and find your average man or woman from the era and see what they looked like from day to day. Authentic pictures and books give me better references. I personally don't like to base looks off other movies if they are not filmed during the era I am looking for because other artists could have taken a twist or a different interpretation of the era. I love going to the Max Factor Museum in Hollywood and looking at the materials they used for this period and getting inspiration from that. Research is one of my favorite parts of the job. It is like detective work. There are so many amazing books out there. 
BLP: What are the challenges with the intensities of pigments? How can artists achieve the correct tone?
AGQ: Color theory is basic and the foundation of makeup. I love color matching, especially with RCMA Makeup. It is the very first foundation I ever bought for my kit and is still with me after 12 years. My advice is to learn about undertones in the skin. It helps so much when it comes to color matching the skin. I love to mix to get the best color and the perfect match. Don't forget to roll your foundation down the neck to create a seamless look.  
I would also like to add that having a strong mentor to guide you, and a great team with you is very important. I was lucky enough to have Eryn Krueger Mekash as my mentor. I also had a great team on the show, which included assistant department head Alex Perrone; key makeup artist Robyn Rebbe; and makeup artist Laura Morton.