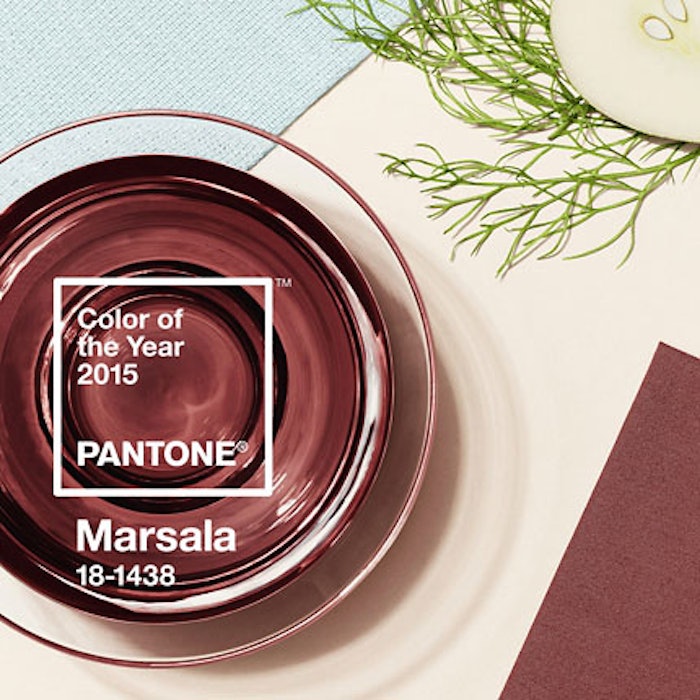 Looking for a way to embrace Pantone's latest Color of the Year, 2015's Marsala? Look no further! From luxuriously rich lipsticks to warm, sultry eyeshadows, to brightly beautiful polishes, and more, our Marsala product guide will help you incorporate this of-the-moment hue into your daily look. Enrich your beauty routine with this confident, multi-dimensional color, and get inspired to help your clients live their most beautiful, fulfilled year yet!

Click through to see our full list of Marsala-colored products!
LONDONTOWN's "Pass the Port" nail lacquer embodies Marsala with its reddish brown hue and hint of metallic. Visit www.londontownusa.com.
Youngblood's lipstick in "Spicy" (a celebrity favorite) and gel liner in "Sienna" are great ways to wear Marsala. Sienna can be used as a liner or all over the lid for a smokey brown effect. Visit www.ybskin.com.
Aveda's new Fall/Winter 2014 Collection – Romantic Grandeur – features petal essence single eye color in "Allspice." This cool, deep red brown with a satin finish is the eyeshadow version of Marsala, plus, it builds and blends effortlessly, surrounded by a soft floral aroma. Visit www.aveda.com.
China Glaze's "VII" offers a richer, more luxurious take on 2015's signature shade. Visit www.chinaglaze.com.
OPI's "Chicago Champaign Toast" captures the warmth and confidence of Marsala. An added bonus? This muted lacquer flatters paler skin tones instead of washing them out. Visit www.opi.com.
Obsessive Compulsive Cosmetics' Lip Tar: Stained Gloss in "Nomad," and Lip Tar: Matte in "Marion," offers two ways to wear Marsala. "Nomad" is bold and sexy with a hint of shimmer for a night out, while "Marion's" soft, rosy shade is just neutral enough for daily wear. Visit www.occmakeup.com.
If you're looking to incorporate Marsala into every aspect of your beauty routine, INGLOT Cosmetics has you covered. Pair a bold, wine-hued lip with subtly rosy cheeks, or create an earthy version of the smokey eye with INGLOT's various shadows. A touch of Nail Enamel #865 flatters all skin tones. Visit www.inglotusa.com.
For a darker, more dramatic version of Marsala, try Ardency Inn's MODSTER Long Play Lip Vinyl in "Dubstep Remix." The purplish hue creates a bold, stand-alone look. Visit www.ardencyinnstore.com.
Embrace the earthy richness of 2015's Marsala with essie's "bordeaux," a warm, spicy polish hue. Visit www.essie.com.
Cuccio Colour's "Boston Cream Pie" provides an almost-exact match to Pantone's Color of the Year. A subtle rusty shade makes this color stand out. Visit www.cuccio.com.
For those who desire an environmentally-friendly, organic approach to their beauty, Nvey Eco's Advanced Care Lip Colour #356 Tuscan and Hydrating Lip Lustre in Flirt embody the richness of Marsala. While "Tuscan" offers a dimensional, wine-hued lip color with a velvety finish, "Flirt" provides just the right amount of shine. Visit www.nveyeco.com.
CND's Vinylux in "Scarlet Letter" offers a more pinkish approach to the trendy hue. A little bit berry, a little bit rose, this shade offers the perfect balance of bright and earthy. Visit www.cnd.com.
Celebrate Pantone's new Color of the Year with KBShimmer's "Men are from Mars-ala," an earthy, red-brown shade. Worn outdoors or in bright light, "Men are from Mars-ala" features a linear holographic (left) and when indoors, this shade is rich and warm (right) – just like a glass of Marsala wine should be! Visit www.kbshimmer.com.