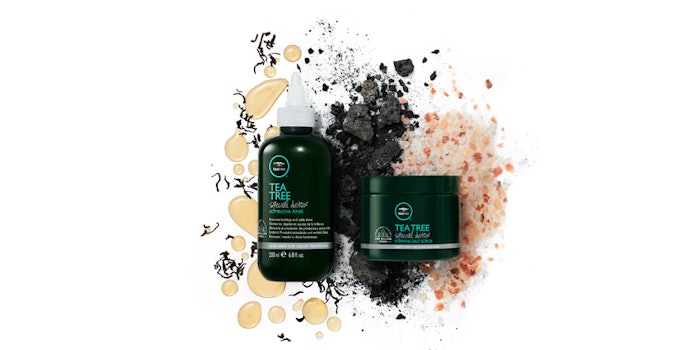 Courtesy of JPMS
The Tea Tree Special Detox is formulated with skin-balancing ingredients for shinier, more-healthy looking hair.  
The collection includes:  
Tea Tree Special Detox Kombucha Rinse 
Clarifying rinse infused with kombucha and apple cider vinegar.
Clinically proven to remove 74% of scalp buildup after one use.
Smooths and seals the hair cuticle for shinier, softer hair.
Tea Tree Special Detox Foaming Salt Scrub 
Clinically proven to exfoliate and remove dry skin and buildup after one use.
Formulated with an antioxidant-rich blend of volcanic ash, Himalayan pink salt and French green clay.
Polishes and soothes the scalp, leaving it feeling refreshed and renewed. 
The Tea Tree Special Detox can be used as an add-on at the bowl for clients in need of a refresh, that includes the signature Tea Tree tingle, invigorating fragrance and squeaky-clean scalp feeling. It can also be sold as retail for clients looking to maintain a refreshed scalp at home to remove product buildup.