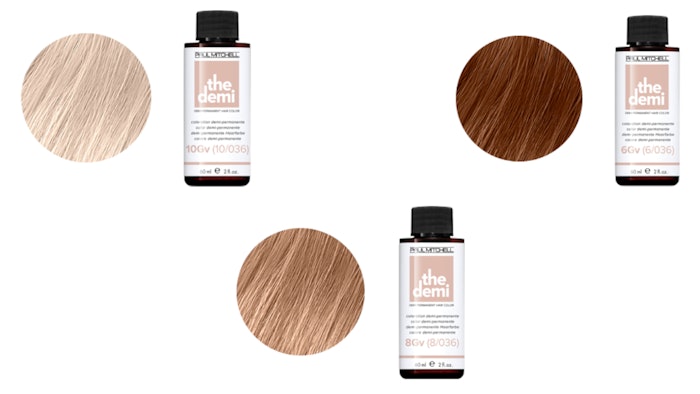 Courtesy of Paul Mitchell
Paul Mitchell invites stylists to get nearly nude with their newest launch the Demi Nearly Nudes. 
These three new gold violet shades create oh-so-chic soft, nude hues. From effervescent champagne to refined taupe, Paul Mitchell The Demi Nearly Nude shades embrace delicate nuances of tan, gold and violet tones. Stylists can use these super flattering and on trend tones on a variety of clients in several ways, creating unique tonalities that open a world of possibilities.
The new demi shades include: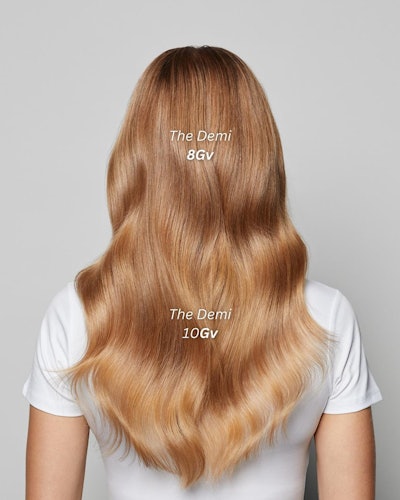 10 Gold Violet (10Gv/036) – the lightest tan background with the softest combination of gold violet. For best results, use on hair that is pre-lightened to a level 9 or 10 for soft taupe results.
8 Gold Violet (8Gv/036) – ideal for levels 8, 9, and 10 pre-lightened hair, 8Gv creates an expensive-looking champagne color. Use in a mid-light foil technique for added sophistication. 8Gv can also be used to refresh a single-process blonde to balance out any unwanted gold – it adds subtle depth and refinement.
6 Gold Violet (6Gv/036) – formulated with the greatest amount of tan background color. The addition of the dominant gold and refined violet makes the shade warm yet balanced for a sienna-like tonality that trends towards natural, tanned gold.
Paul Mitchell The Demi collection offers options for every need, with 55+ standard shades, flash toners, metallics and clear. The line is ideal for toning, refining, refreshing, blending grays and more. Easy-to-formulate and intermixable, The Demi brand allows stylists to create custom shades they need with the ability to adjust their finish – opaque or translucent. Guests leave the chair with high-shine strands and vibrant color in less time, thanks to speedy processing.
Learn how Paul Mitchell's Artistic Color Director Colin Caruso uses the all-new Demi Nearly Nude shades to create a champagne violet! For formula 1, Caruso combines The Demi 8Gv + The Demi 6Gv, and follows with Formula 2 – The Demi 8Gv. For added dimension and brightness, Caruso adds in a few sections of Paul Mitchell SynchroLift with 20 Volume Developer, alternating between the three formulas as he moves through his sections. Then, completes these golden violet mid-lights with The Demi 10Gv.