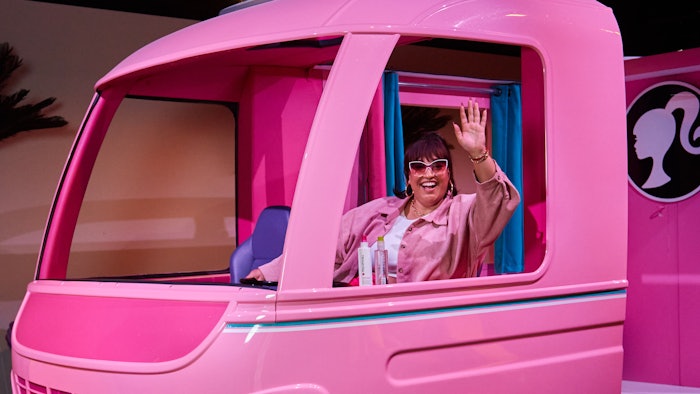 Courtesy of John Paul Mitchell
World of Barbie, a one-of-a-kind immersive experience, made its debut when it officially opened its Dreamhouse doors at Santa Monica Place in Santa Monica, California on Friday, April 14
. 
Visitors of all generations have the chance to live out their life-size Barbie dreams as they explore the 20,000 square-foot interactive experience.
World of Barbie invites fans to experience interactive installations including:   
Barbie Dreamhouse: Visitors will be able to explore the exquisitely designed rooms of the life-size Barbie Dreamhouse, complete with a patio and pool, and walk-in closets filled with garments from decades of iconic Barbie fashion history. 
Paul Mitchell Salon: In partnership with Paul Mitchell, guests can try Barbie's favorite looks in the interactive dream salon, as well as enjoy Barbie-glam hairstyling by Paul Mitchell professionals on select days. Paul Mitchell product will also be sold onsite. 
Barbie Camper Van: Fans can take the driver's seat in this full-size camper van, built by leading car customization shop, West Coast Customs, or simply relax in a hammock.
Fashion Studio: Guests will have an opportunity to walk the pink carpet and pose inside of one of the six Barbie boxes.
TV Studio: Visitors can step onto the set and become a news anchor delivering headlines in front of various TV studio backdrops, interviewing their guests or giving the weather report.
Space Center: Visitors will be able to board a Barbie space shuttle to interact with mission control and travel to several interstellar destinations.
Movie Theater: Guests can also step into the neighborhood movie theater where classic Barbie content will be played.
The visually stunning production will also feature a bespoke Barbie exhibit where guests can see how Barbie, her Dreamhouse and her various vehicles have evolved over the years and can learn more about how she has become the number one doll property worldwide. 
World of Barbie will host special events and after-hour celebrations during its Los Angeles run, including: 
Pink Carpet Night: Pink Carpet Night at World of Barbie invites guests for a night of glamour, dancing, and high fashion fun. Guests are encouraged to wear their most glamorous "Barbiecore" outfits. Upon arrival, guests will walk the Pink Carpet, past World of Barbie photo moments and be interviewed by our onsite reporter, who will ask them all about their personal style! Once inside, guests are greeted with live music, snack bar, and more, all within the beautiful backdrop of World of Barbie! Pink Carpet Nights will begin in June, and tickets will be available through Fever.
Sips After Sunset: Sips After Sunset is a recurring event at World of Barbie, where guests 21+ are invited to enjoy World of Barbie with the addition of DJ-driven music and fun cocktails, hosted by special guest influencers. The first Sips After Sunset event will kick off in late May, and tickets will be available through Fever.
Movie Days: Movie Days are coming to World of Barbie. On select days, grab a seat in the theater and watch your favorite Barbie animated films. And of course, popcorn will be available. Movie Days at World of Barbie does not require an additional ticket. 
And more to be announced! 
Tickets for the Los Angeles engagement, now on sale, range from $34 for adults and $26 for children with special discounts available for military, students, first responders and seniors.
Hours of operation are: Wednesday and Thursday (12:00 – 6:00 PM); Friday (12:00 – 8:00 PM); and Saturday and Sunday (10:00 AM – 8:00 PM).
To purchase tickets or register to receive information on future tour dates, visit theworldofbarbie.com.