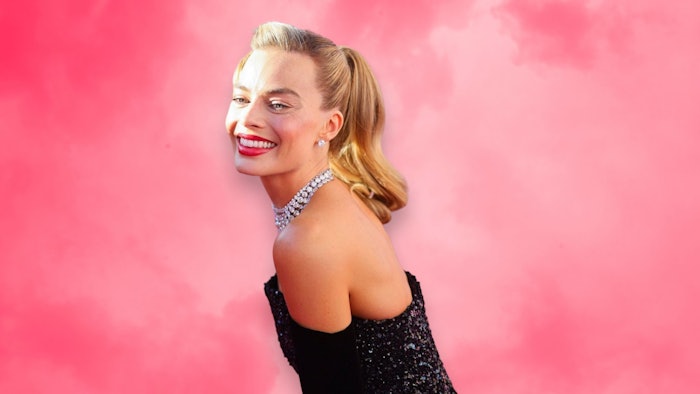 Courtesy of Jacob Schwartz (@jacobschwartzhair)
At the Hollywood movie premiere of "Barbie," Margot Robbie embodied the title character she brings to life with an iconic Barbie blonde pony.
Expert Celebrity Hair Colorist Jacob Schwartz (@jacobschwartzhair) created Robbie's look for the premiere using Schwarzkopf's BLONDME and IGORA VIBRANCE. 
"I really wanted Margot's blonde to embody Barbie on the red carpet without it being so obvious and over bleached," Schwartz shares. "When the light hits her hair, I wanted to sparkle and bounce like those legendary blonde supermodel and actresses of the '90s." 
If your clients are wanting to channel the Barbiecore aesthetic this summer, follow the tutorial from Schwartz below to recreate Robbie's Barbie blonde. 
How-To: 
Using fine weaves, highlight using a babylight technique with BLONDME premium lightener 9+ with 20 volume BLONDME premium developer to create even lift while protecting the bonds in the hair. The BLONDME developers have higher level of care ingredients inside the bottle (oil) so it helps to also protect the cuticle during development. 
Lift to a golden light blonde and then cleanse the hair using the BLONDME All Blondes Rich Shampoo and BLONDME All Blondes Rich Conditioner. This will help to build new bonds in the hair and prepare it for an even toning application.
On damp hair, apply Schwarzkopf IGORA VIBRANCE to tone the blonde and add shine. Use 9-0 around the hairline to maintain brightness and 7-0 for a shadow root on the top half of the head and 6-0 underneath the crown for extra depth at the base mixed with 6-Volume gel activator. IGORA Vibrance is alkaline, giving better penetration and longevity.
For the mid-lengths and ends, apply a mixture of IGORA VIBRANCE 9-0+9-4+8-46 with equal parts 1.9% / 6-Volume gel activator to create a beautiful lived in warm blonde tone. Demi offers longevity without the commitment of build-up.
Develop for 15 to 20 minutes.
Carefully rinse the deeper base color first while holding the lighter pieces up to maintain brightness on the ends. Finish with another shampoo and condition with the BLONDME All Blondes Rich Shampoo and BLONDME All Blondes Rich Conditioner to seal the color and rebuild strength in the hair.