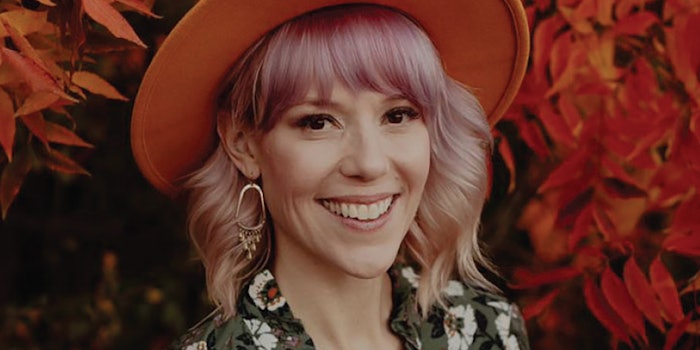 courtesy of Sydney Lopez; @laurenapelphoto
Educator and salon owner Sydney Lopez (@sydneyannlopezhair) shares six things that inspire her work behind the chair. 
1. Social Media
You may know that social media is where I share as much free creative color and social strategy education as possible. But, what you may not know is the reason I share so much is because the accounts I follow on social media inspire me daily. I follow tons of hair creators, but I can't get enough of the art, fashion, makeup, architecture and design pages that are available for inspiration with the scroll of my fingertip.
2. Peer Community
Taking classes, going to hair shows and connecting with stylists are my priorities in this industry. I'm so grateful for the opportunity to teach as much as I have because these real-life connections play a big role in my happiness within this industry.
3. Rainbows 
I'm inspired by all things colorful. Sunsets, peacocks, living rooms, over-the-top fashion and, of course, rainbows. When I see a color palette that makes me smile, I know that is something I have to re-create for someone magical someday. My phone is full of colorful, texturally beautiful photos I've taken as inspiration for future hair creations.
4. Creative Freedom
My creative clients are just that—creative. The vast majority of the time, the clients who have fantasy colors come to my chair and give me complete creative freedom or a vague idea of a color palette that they leave up to my interpretation.
5. Photography
When I finish a head of fashion-colored hair, and I begin to take photos of that hair, I always get the "happy heart flutters." With creative color, most of my clients sit in my chair for a minimum of five hours, so to just send them out the door with a beautiful work of art on their heads (that I'll never see again) without capturing photos would be disappointing, to both my clients and me. Photos and videos have become part of my creative process and have enabled me to share every detail of my art, placement, color palette and techniques.
6. Family
Family is the most important part of my life. I have a son, Malakai, and a daughter, Maxwelle. Max was born in April of 2020, right after the world shut down. Because we were home with her so much the first couple years of her life, I had the opportunity to see the world through her eyes. To watch Malakai show Maxwelle the world has been the biggest reminder for me to pay attention and appreciate the littlest things. My husband, Aaron, is the most supportive spouse, and our kids are blessed to have him as their dad.