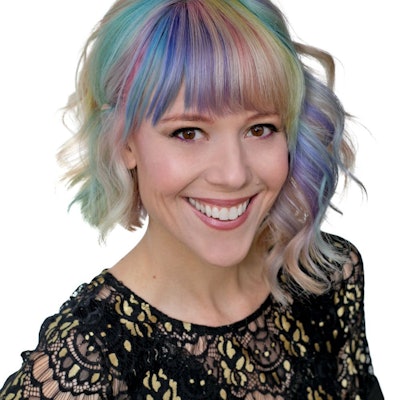 Known for her vivid hues and creative color placement techniques, such as her heart and star sectioning, Sydney Ann Lopez is not only a bright force in the hair community, she's now also a social media ambassador for Goldwell, Kao U.S.A. Salon Division announced today. As a Goldwell social media ambassador, Sydney's online content will feature Goldwell color exclusively, and she will join the Goldwell team at select brand events.
"Goldwell is a brand that has continually evolved and led the way in our industry. From the launch of their innovative Pure Pigments to the newest addition of Elumen Play, both their creative color and natural color lines have made my heart flutter," says Lopez. "The Goldwell team is full of talented and creative artists who have welcomed me with open arms.  The opportunity to partner with Goldwell, be a part of their team, and create a world of color with their products, will be incredible."
RELATED: Jessica Scott Santo and Sydney Ann Lopez on the Importance of Celebrating Other's Accomplishments 
In addition to engaging her 118K-plus audience on Instagram, Lopez is a member of the TSPA Hall of Fame and competed on The Look All Stars TV series, not to mention a co-owner of Headlines Hair Design in Denton, Texas, with her mother Jean Barker, who Lopez says has been an integral part of her career.
"Sydney is not only an incredible creative spirit, she's also committed to sharing fresh ideas with her followers and the colorist community," says Scott Guinter, general manager at Kao USA Salon Division. "She's an inspiring voice in our industry, and we're delighted to launch this new partnership with her."