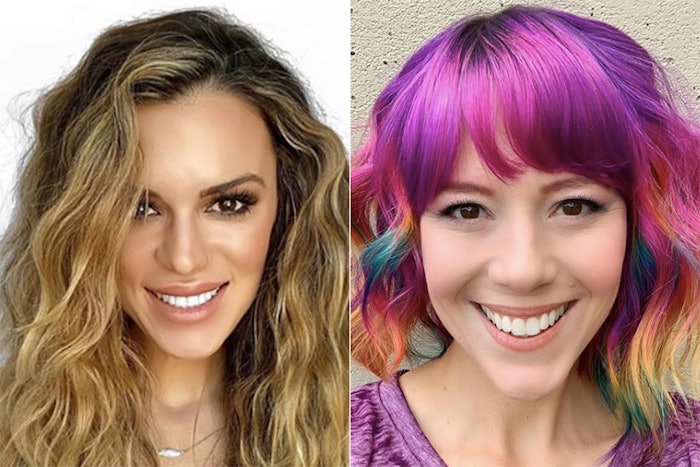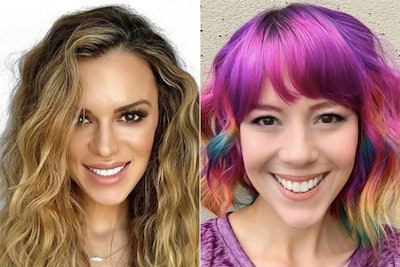 One of the many positive aspects to social media has been the ability to make friends with like-minded people— no matter how far apart they are, nor how different they may be. Such is the case for hair besties Jessica Scott Santo (@jessicascotthair) and Sydney Lopez (@sydneyannlopezhair). While Santo is known for the natural balayage looks that she creates in her Sciota, Pennsylvania, salon and Lopez paints vibrant, creative color just outside of Dallas, the two have formed a deep friendship that also extends to their Instagram strategy.
After meeting at an influencer event, Lopez watched as Santo's page continued to grow. "I just reached out and asked her what she was doing that I wasn't," says Lopez. Santo wasn't stingy about giving her advice (post three to four times a day, engage with your audience), and the two formed a close bond. Lopez says that having a buddy is essential—especially in the beginning—because it can sometimes seem like you're going nowhere fast on social media. "Instagram is so much work that doesn't pay off for a while," says Lopez.
Although their pages have since surpassed the 100,000-follower mark (as we go to press, Lopez has 110K followers and Santo has 115K), they still urge each other to continually evolve and adapt. "We're constantly messaging at night and talking about Instagram," laughs Santo. "Sydney and I know where we want to go, so we encourage each other to put in the work to achieve that goal."
Although it's important to celebrate your successes, an Instagram buddy should be much more than just a cheerleader. "We've been really focused on holding each other accountable," states Lopez. If one notices the other hasn't posted in a few days, or if their page isn't performing as usual, for example, then they aren't afraid to reach out and help the other get back on track.
Both artists have greatly benefited from having a strong social media presence—they're ambassadors for various brands and have had the opportunity to travel the world educating and sharing their vision. But they say their greatest accomplishment outside of their friendship is the ability to support others. "Why shouldn't we all help each other?" muses Santo. "Helping someone else become better doesn't just help him or her; it also helps you become better."
Why Do I Need Instagram?
Are you a successful salon owner or fully booked stylist who doesn't believe you need Instagram? Sydney Lopez recently taught a class for established salon owners and leaders who don't have an IG presence, and helped them see the importance of changing that perception with this simple statement: "Young and talented stylists are using Instagram to find out what salons they want to work at, either once they graduate or after they're already established." Lopez recently hired two such stylists with full clientele who leapt at the opportunity to work at her salon.
[Images: Instagram]