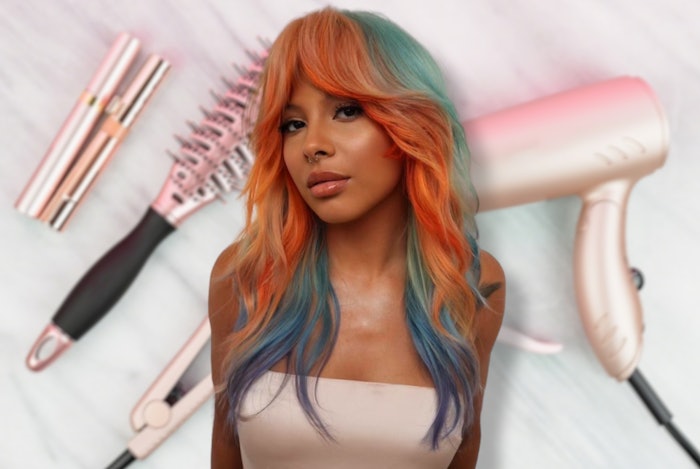 courtesy of @jamillahdoesmyhair
Over the course of the month, we will be spotlighting the winners of Beauty Launchpad's 25 Under 50K for 2022.
Here, you will get to know Jamillah Herrera. Herrera is a creative stylist at Gemini Salon and Garden in Nesconset, New York. In her Q&A, you will learn her favorite hair trends, a fun fact about her, her proudest accomplishment and more. 
Beauty Launchpad (BLP): What is a fun fact about you?
Jamillah Herrera (JH): I've walked the Great Wall of China!
BLP: What is your proudest accomplishment?
JH: My proudest accomplishment would have to be graduating from college! I have a Bachelor of Science in Business Administration, specializing in Operations. 
BLP: What is your current favorite hairstyle trend?
JH: Bangs! Whether shaggy, curtain, micro, etc., I love hair that frames the face.
BLP: What is a hair tip you have for your fellow stylists? 
JH: When blowing out your client's hair ALWAYS go over each section with cold air directly after it has dried. This makes the blowout shiny, last twice as long and is an easy #GameChanger.
BLP: What inspires you?
JH: Inspiration is endless. What inspires me the most is my desire to see how far I can go. I'm also inspired by everyday beauty because nature is the greatest artist. 
BLP: What do you love about your work?
JH: I love bringing visions to reality. Giving someone their dream color or cut and them walking out of the salon standing a little bit taller and with more confidence than when they came in is the best feeling. 
BLP: What motivates you about the industry you are in?
JH: The hair industry is never stagnant. There's always a new trend or technique to learn, and that keeps what I do exciting every single day.
BLP: What is a professional goal you have for yourself? 
JH: Becoming an educator. It is absolutely amazing how over the years hairstylists have built an amazing sense of community. If I could teach another stylist even one thing that makes a difference in their day-to-day life behind the chair, I would feel accomplished. 
BLP: Who is a role model you have in the industry?
JH: Chris Appleton, I mean, hello!? The man styles the hair of Kim K.! 
BLP: What is your favorite career-/work-related memory from this year?
JH: Earlier this year, I completed the Master Colorist program at the KAO Salon Academy in NYC. This program single-handedly changed the way I find inspiration. 
To see our full spread for this year's 25 Under 50K recipients, you can read Beauty Launchpad's November/December 2022 digital magazine.