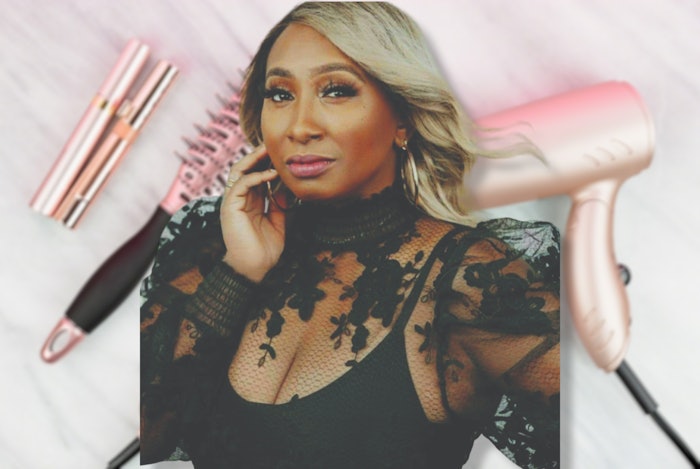 courtesy of @geniachurch
Over the course of the month, we will be spotlighting the winners of Beauty Launchpad's 25 Under 50K for 2022.
Here, you will get to know Genia Church. She is a celebrity hairstylist, salon owner and Schwarzkopf artistic team member at the Collective by Epiphany and Textures Hair Studio. In her Q&A, you will learn her favorite hair trends, a fun fact about her, her proudest accomplishment and more. 
Beauty Launchpad (BLP): What is a fun fact about you? 
Genia Church (GC): I love going to the beach, but hate getting in the water. I love cupcakes, but hate frosting. 
BLP: What is your proudest accomplishment? 
GC: My proudest industry accomplishment is being selected as a North American Hairstylist Award Haircolor finalist. 
BLP: What is your current favorite hairstyle trend?
GC: As much as I love many of the current hair trends, I'm a bigger fan of tailoring classic looks to keep them looking current and fresh; this approach never goes out of style.
BLP: What is a hair tip you have for your fellow stylists? 
GC: A hair tip I would give to fellow stylists is to never stop learning. Continue to evolve, yet stay true to yourself. Identify areas in the industry that you love and do more of it! This in turn will provide for a much more fulfilling long-term career. 
BLP: What inspires you?
GC: I'm inspired by seeing others grow and tapping into their passion.
BLP: What do you love about your work?
GC: I love that my work reflects diversity. It showcases versatility in range of styling, cutting and coloring techniques on all textures of hair. My work is also a representation of the various opportunities we have as hairstylists to do more than work behind the chair. 
BLP: What motivates you about the industry you are in?
GC: I love that our industry is ever evolving. I'm constantly motivated and inspired by all the stylists I've had an opportunity to meet throughout my career as an educator.
BLP: What is a professional goal you have for yourself? 
GC: My professional goal is to continue to push myself to be better each year as a business owner, hairstylist and educator. 
BLP: Who is a role model you have in the industry?
GC: Damien Carney is my industry role model. I'm inspired by his willingness to share and be a mentor to others, while being globally recognized for his work as an award-winning photographer and hairstylist. 
BLP: What is your favorite career-/work-related memory from this year?
GC: My favorite work-related memory from this year is the grand opening of The Collective by Epiphany. It's a new hybrid salon model that is a collaborative work space for beauty creatives. It's a powerhouse of beauty professionals under one roof so that iron can sharpen iron, while also strengthening each individual's brand.
To see our full spread for this year's 25 Under 50K recipients, you can read Beauty Launchpad's November/December 2022 digital magazine.