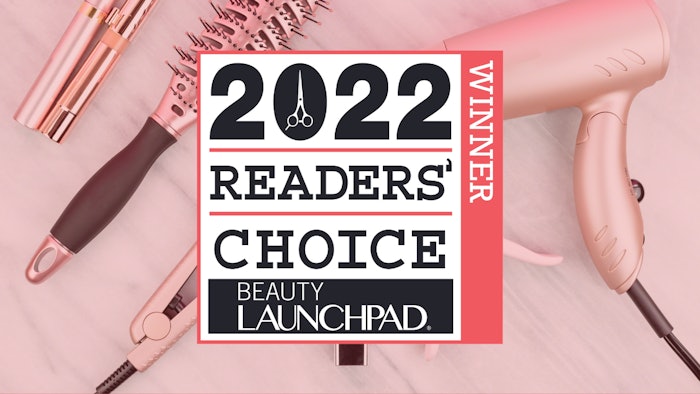 It's finally time to announce the winners and finalists of Beauty Launchpad's 2022 Readers' Choice Awards!
You can learn more about our winners and finalists by reading our November/December 2022 digital magazine. 
New Launch
WINNER: FASTFOILS
FINALISTS: KARG Shear K-23 EuroSlide 6" and Habit Hair X Clip In Extensions
Shampoo and Conditioner
WINNER: Eufora Beautifying Elixirs Bodifying Shampoo and Conditioner
FINALISTS: Colorproof Moisture Shampoo and Conditioner and HAWRYCH MD Advanced Hair Treatment Shampoo and Conditioner
Best Volumizer
WINNER: SexyHair Powder Play
FINALISTS: Eufora International Powder Lift and ECRU New York Body Building Fiber Mousse
Best Hairspray
WINNER: Kenra Volume Spray 25
FINALISTS: SexyHair Spray & Play and Eufora Elevate
Best Smoother (Retail)
WINNER: Alkali Beauty Unicorn Milk
FINALISTS: Keratin Complex Infusion Keratin Replenisher and AIIR Professional Smoothing Cream 
Best Curl Enhancer
WINNER: Cali-Curl Bond Therapy Mist
FINALISTS: TRUSS Curly Twist and MOP C-Curl Defining Cream
Best Texturizer 
WINNER: AIIR Professional Texture AIIR
FINALISTS: Schwarzkopf Professional OSiS+ Texture Craft and milk_shake lifestyling texturizing spritz
Best In-Salon Smoothing Treatment
WINNER: Keratin Complex Natural Keratin Smoothing Treatment
FINALIST: Lakme Aura
Best Thinning Regiment
WINNER: Grande Cosmetics GrandeHAIR Hair Enhancing Serum
FINALISTS: Colorproof Biorepair Thicken Scalp Serum and Be in Love Growth Root Spray
Best Sustainable Line/Eco-Friendly
WINNER: Innersense Organic Beauty I Create Shine
FINALISTS: Schwarzkopf Professional tbh and Seed Phytonutrients Powder Cleanser Collection
Best Men's Hair
WINNER: Lakme k.Style Matter Matte Finish Wax
FINALISTS: TRUSS Man Nature and Hattori Hanzo Shears Texturizer Series
Best Hair Oil
WINNER: Saints & Sinners Illuminati Divine Shine Holographic Serum
FINALISTS: Hairstory Hair Oil and neuma neuMoisture Argan Oil
Best Thermal Protectant
WINNER: ABBA Complete All-in-One Leave-In Conditioner
FINALISTS: It's A 10 Haircare Miracle Leave-In and milk_shake lifestyling thermo-protector
Best Dry Shampoo 
WINNER: Schwarzkopf Professional OSiS+ Refresh Dust
FINALISTS: ABBA Always Fresh Dry Shampoo and (re)FRESH Dry Shampoo Tropical Coconut
Best Color Care
WINNER: It's A 10 Haircare Miracle Clay Hair Mask For Blondes
FINALISTS: PRORITUALS Color Fuel and milk_shake colour care deep conditioning mask
Best Bond Builder
WINNER: TRUSS 8X Powder
FINALISTS: Lakme i.Plex and Cali-Curl Bond Therapy Masque
Best Permanent Color
WINNER: ColorDesign Permanent Hair Color 
FINALISTS: Oligo Professionnel Calura Permanent Shine Hair Colour and PRORITUALS Hair Color Cream
Best Semipermanent Color
WINNER: Duomo Vivids Hair Color Series
FINALIST: Kenra Color Creatives
Best Demipermanent Color
WINNER: Oligo Professionnel Calura Gloss
FINALISTS: Kenra Color Demi-Permanent Series and Keratin Complex KeraBrilliance Demi-Permanent Hair Color
Best Bleach
WINNER: PRORITUALS Power Platinum 9 Bonder Bleach
FINALISTS: Oligo Professionnel Blacklight and ColorDesign Shiny Blond Clay-Based Lightener
Best Bonded Extensions
WINNER: Babe Hair Extensions
FINALIST: Great Lengths
Best Taped Extensions
WINNER: easihair pro Tape In Extensions
FINALISTS: Amplify Hair Tape In Extensions and It's A 10 Haircare Ex10sions Injection Tape In
Best Extensions – Other
WINNER: HairUWear Hairdo Invisible Extension
FINALISTS: Donna Bella Hair Hybrid Wefts, easihair pro Hand Tied Extensions and Platinum Seamless
Best Shears 
WINNER: Hattori Hanzo Shears High-Carbon Shears Series
FINALISTS: JAGUAR White Line Silver Ice and KARG Shear K-Soft Cut 6.1"
Best Razor
WINNER: Jatai Feather Styling Razor
FINALISTS: Hattori Hanzo Shears HHRAZ2 Fixed Razor and JAGUAR RAZOR R1M
Best Clipper/Trimmer
WINNER: WAHL Professional Cordless Senior
FINALIST: Hattori Hanzo Shears Hanzo Hitter Trimmer
Best Blowdryer
WINNER: Bio Ionic 10X Ultralight Speed Dryer
FINALISTS: Croc Masters 2K2 Infrared Dryer and Milano Collection Volumizing & Smoothing Hot Air Brush
Best Styling Iron
WINNER: Croc Premium Infrared Flat Iron
FINALISTS: Bio Ionic Long Barrel Curling Iron (1.25-inch) and Donna Bella Hair 22MM Hair Waver
Best Brush/Comb
WINNER: Wet Brush Pro Detangler
FINALISTS: Denman Brush D3 Original Styler 7 Row and Ergo Styling Tools ER53 Ionic Ceramic Round Brush
Best Lash Serum
WINNER: RevitaLash Advanced Pro Eyelash Conditioner
FINALISTS: HAWRYCH MD Eyelash Enhancer and neuLash Skin Research Laboratories
Best Brow Serum
WINNER: HAWRYCH MD BROW Advanced Eyebrow Enhancer
FINALIST: neuBROW Skin Research Laboratories
Best Salon Management System
WINNER: Meevo 
FINALISTS: Rosy Salon Software and GlossGenius
Thank you to our nominees:
Beauty Launchpad would like to extend a heartfelt thank you to all of our nominees. We're overwhelmed by the amount of innovation in the professional hair care industry, and are beyond honored to have the below brands participate in our program.
ABBA, AIIR Professional, Alkali Beauty, Be In Love, Bio Ionic, Cali-Curl, ColorDesign, Colorproof, Croc, Denman Brush, Donna Bella, easihair pro, Ecru New York, Ergo, Eufora International, FASTFOILS, GlossGenius, Grande Cosmetics, Great Lengths, Hairstory, HairUWear, Hattori Hanzo, HAWRYCH MD, Innersense Organic Beauty, It's A 10 Haircare, Jatai, Karg, Kenra Professional, Keratin Complex, Lakme, Lapcos, Milano Collection, milk_shake, Millennium Systems International, Neuma, Oligo Professionnel, RevitaLash, Robanda International, Rosy Salon Software, Saints & Sinners Haircare, Schwarzkopf Professional, SexyHair, Skin Research Laboratories, Square, TRUSS, WAHL Professional and Wet Brush