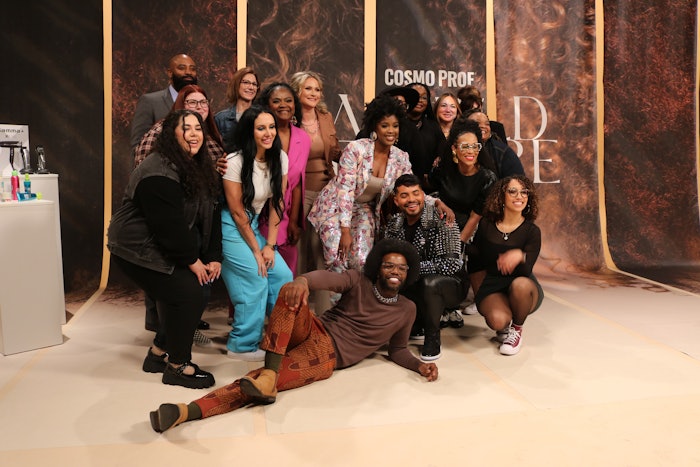 Courtesy of Gabby Bach
Cosmo Prof's World of Texture made its return for the third consecutive year on Monday, February 27, 2023. 
As public demand for textured hair care education increases, with stylists clamoring for knowledge and consumers struggling to find skilled textured hair stylists, Cosmo Prof is looking to lead the charge by empowering and teaching both stylists and consumers through their virtual World of Texture summit. 
"I love that Cosmo Prof has this event World of Texture because there's not so many [events like this,]" Cosmo Prof Artistic Team Member Brenda Espinosa (@brendacurlstylist) told Beauty Launchpad at the event. 
World of Texture features educational classes where stylists can earn CEU credit, mainstage events with textured hair professionals and collaborations with industry-leading brands. 
If you didn't get a chance to attend, don't worry! If you purchased an admission ticket, the digital library of all the educational classes and mainstage shows is available for rewatch from March 1-15. 
Here's what you may have missed if you didn't get a chance to attend: 
Education 
Cosmo Prof's World of Texture featured several educational classes, both on the mainstage and in breakout sessions where attendees could earn CEU credit by attending the sessions. 
This year, Cosmo Prof wanted to place an emphasis on Curl Type 4, where the education gap proves to be the largest. However, there was plenty of opportunity to learn about a variety of different textured hair types with classes covering everything from placement and dimensional color to the art of styling, along with business-focused tips such as how to integrate a "wash and go" service.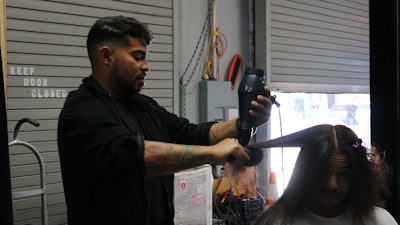 "It's really important to be very educated and diverse in all hair types of the industry," Cosmo Prof Artistic Team Member Jon Carlos De La Cruz (@joncarlosdelacruz) told Beauty Launchpad. "It opens your portfolio. You never want to be limited to what you can do. It really sucks to have to turn down a client because either you're not confident or you're not well educated in how to work with that hair type." 
Conversation 
World of Texture provided a platform for experts from industry-leading brands to share their insight on how the beauty community can improve their education and product offerings for textured hair.
World of Texture Host Tashara Parker, WFAA reporter and founder of the Bun Ministry Movement, spoke with Nu Standard CEO and Founder Autumn Brown Yarbrough (@autumn_cby) as part of a panel with other industry-leaders about innovation in the industry for textured hair. 
Yarbrough launched Nu Standard's HYDRASILK Hydrating Bond System exclusively with Cosmo Prof earlier this year. The launch marked the very first distribution of a bond system curated by a Black woman and designed for textured hair.
Yarbrough shared with Beauty Launchpad the area where she believes the industry can improve in how it provides hair education. 
"I do not see a solution of really understanding the treatment side, not only for textured hair but for all hair," Yarbrough said. "My job with setting the new standard is not only providing the education for the importance for treatments but also driving it to the end user, which is the stylist's client." 
Hair Transformation 
De La Cruz and Espinosa spent the day at World of Texture transforming their models' hair. They showed off the final looks with the help of fellow artistic team member Keon Washington (@keonthebarber), who interviewed them about how they created their models' looks. They also shared their models' amazing before and after transformations.
De La Cruz took his model Darnell's 3C hair type and gave it his signature blowout.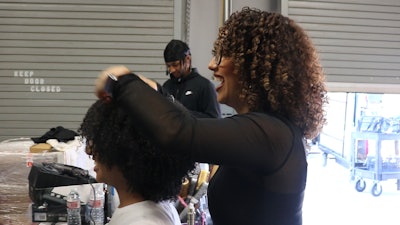 "It's a version of the Dominican blowout, and what that consists of is more tension and heat," De La Cruz explained. "With the products that I use, it's protecting [the hair] from heat. It's just giving more of a blowout that is long-lasting, about a week or two." 
Espinosa gave her model's curl a voluminous lift. 
"I shaved up her curls. I wanted to give her a little nice, round cut," Espinosa said. "I added a little bit of fringe type of bangs." 
Fun!
What a better way to celebrate a successful event than putting on your dancing shoes?
The World of Texture live stream ended with the Cosmo Prof team taking part in a dance party celebration on the set in Dallas, Texas. Beauty Launchpad captured the moment on our Instagram Live, which you can watch below. 
That's a wrap on World of Texture. Thank you to Cosmo Prof for inviting us. We had the best time!