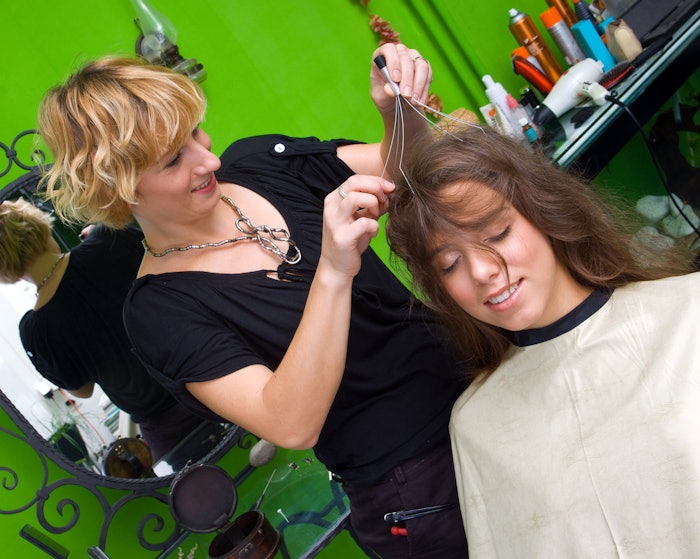 Dreamstime
Healthy hair starts with a healthy scalp.
Cosmo Prof solicited scalp care advice from three of its experts: curly hair specialist Brenda Taveras, color and care expert Presley Poe and color/styling transformations and textured hair expert Jon Carlos De La Cruz. 
Why is scalp care so important? 
Brenda Taveras (BT): Scalp care is very important, as it determines the health and condition of the hair. By taking care of your scalp, it can prevent an itchy scalp and unnecessary build up.
Presley Poe (PP): It really is "healthy scalp, healthy hair." Our scalp is a part of our biggest organ – OUR SKIN. It should not be overlooked. Just like our bodies, it should be tended to properly. 
Jon Carlos De La Cruz (JCD): The health of your scalp determines the health of your hair. It's like growing a plant. The soil must be kept healthy so that the plant grows strong and healthy. 
What are some key pieces of advice you share with clients when it comes to scalp care? 
BT: One piece of key advice I share with my clients when it comes to scalp care is to make sure to shampoo your hair weekly to maintain a healthy scalp and healthy hair. A clean scalp will result in healthy hair.
PP: Give yourself a great massage! A scalp scrub is a great way to invigorate the scalp naturally, with no product and gives great exfoliation. The thicker your hair is, the smaller the working area. For thick hair, try separating the hair into 4 sections and giving each one some tender love and care.
JCD: I tell my clients to not forget that your scalp is skin. The same way you treat your hair is the way you should treat your skin – with the right products that keep your hair and skin hydrated and moisturized.
Are there particular at home practices or treatments you'd recommend clients work into their regular hair care routine?
BT: I recommend for my clients to use a clarifying shampoo once a month to remove any build up or residue from the scalp. This is essential, because we are constantly applying products throughout the week. Removing that build up and residue is like a restart for our hair. I always recommend that clients moisturize their hair right after and use a hair mask once a week for best results. 
PP: Scalp scrubs can be a great way to spice up your scalp care routine, or try some Nioxin Scalp Recovery Treatments found at Cosmo Prof. They have great options for at-home care of your scalp and dandruff treatments for the winter.
JCD: One of my favorite at-home scalp remedies for dry flaky scalp is applying apple cider vinegar. Apple cider vinegar can help restore the natural PH balance in your skin. Just apply for 15 min and rinse. Believe it or not, the vinegar smell won't linger. I also love a good wash with Paul Mitchell's Tea Tree Shampoo and Conditioner. My favorite is the Lavender one.