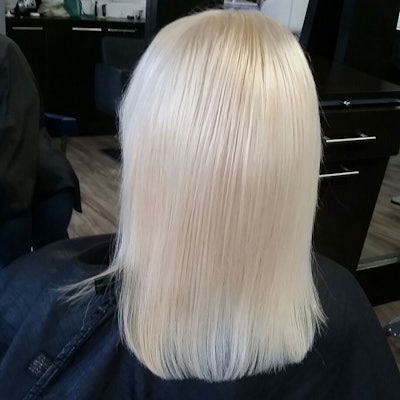 As a stylist, you either dread a color correction, or wait for that perfect guest to walk through the door. I'm all in! Color corrections are one of my favorites. It allows me to challenge my foundation and explore the unlimited opportunities color gives us to make a one-of-a-kind experience for our guests. You can not get this from a box; it comes with love, knowledge and technique.
So what card are we dealt today? Platinum Card!
My guest came in with "lived-in" color - that being said, she hasn't been to a salon since May. Our desired result for the finish product was a pure platinum blonde.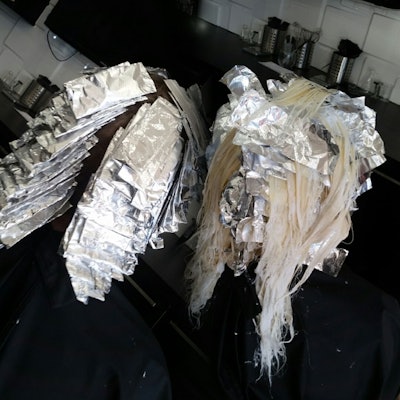 Time to load the SyncroLift into a black bowl and foil little packets all over her head. Apply lighter one inch away from the scalp and all the way through the ends.
TIP: Saturation is key. A lot of times when working with lightener the biggest discovery for not processing evenly or consistent is saturation of product. "Don't be shy, just apply."
Once I applied the platinum card technique, I re-applied SyncroLift to the re-growth area with 20 volume and applied barbie foils to help lift a little quicker and evenly.
 
The main goal for creating the perfect blonde is to lift to a level 10 (pale yellow). This takes time - be sure to pick the volume of developer depending on the porosity, texture and  density of your guest's hair.
Top Coat Formula (better words for toner)
10A + Clear: The Color XG
Apply in the shampoo bowl on damp hair. Process until desired result.
9A : Pm Shines. This is to just add moisture to the hair strands and balance anything that may not have took with the first formula. Leave on for 5 minutes.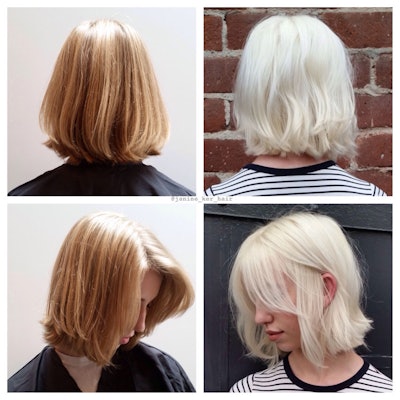 Go-to products:
Forever Blonde Shampoo & Conditioner
-Joshua Ladner; Owner/Stylist, Salon J Ladner & Spa and National Educator, John Paul Mitchell Systems
 
Instagram: @mrjladner