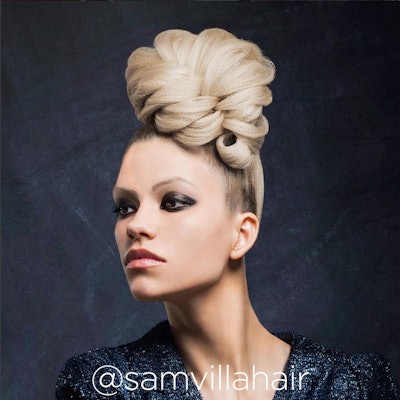 Image: Instagram.com/samvillahair; hair by Geneva Cowan
by Sam Villa
Times have changed - attracting new clients isn't just by word of mouth anymore, it's through social sharing! Social media can raise brand awareness, showcase your talents and increase new client bookings. There's Yelp, Facebook, Instagram, Pinterest, Twitter, YouTube and now Periscope. Social media may have the lowest cost of entry of any marketing tool, but it is not actually that easy to do well.
Dan Polhamus is the Vice President of Brand Messaging and Awareness at Sam Villa, so let's get some tips from him on how to get the most out of this new form of free advertising:
1. Choosing the Site(s) that Provide the Most Value
It seems like a new social media site appears each week, and naturally you want to be part of anything that is new and exciting. So, where should you concentrate your efforts? It's difficult to be great at everything, so start small and nurture one or two platforms that come naturally to you. Next, diversify by dedicating a small amount of time each week exploring new platforms to see if they are a good fit for you. You might discover that Twitter is a great way to quickly communicate with friends, but spending more time on Yelp will add to your bottom line.
Think about the industry we are in: hairdressing. We are visual artists and there is no better form of communication than visual communication. So, spend some time developing an outstanding Instagram account that is full of well-lit before-and-after photos, using similar photos and messaging on Facebook. And, use Yelp to gather testimonials from clientele since reviews are a powerful form of marketing in this digital age.
2. Plan
Life works better when you have a plan in place, right? The same strategy goes for social media. Set goals and ask yourself what you want to get back from social media. Is your goal to gain more followers, attract new clients, increase your brand awareness, etc.? Take out a notepad and pen and write down exactly what you want and how you plan to get it. For example: "I will use social media to gain one new client per week and I'll achieve this by asking each of my guests to leave a review on Yelp and/or Facebook when they leave the salon so their friends know exactly who does their hair." When setting goals, begin with realistic goals that you can achieve. Once you reach your goals, set new ones that are within reach, but require planning and execution. If you continue to set goals, plan and execute, then the new business will come!
3. Share Visually Appealing Content
Begin with the basics; you're a hairstylist working in a salon, so share photos of your hard work. And, think quality over quantity - a photographer might take a few hundred photos during a session, but only 10-20 make the cut and are worth editing. The same goes for taking photos of hair in the salon. Just because you took a picture doesn't mean you have to post it! Choosing only the best photos might be hard for you in the beginning, but with a little practice and a trained eye, you will discern which photos look appealing and which do not.
Next, lighting is everything! If you just created the most beautiful color for your client and you take a picture without any light reflection in a dark space, what good does that do? Find a location with good consistent lighting that is inside or outside your salon and in a place that you can use every time you take a photo. Your followers will begin to notice your background setting, possibly the filter that you use, and most important, the beautiful lighting that shows off, in detail, your beautiful work.
Bonus: A really great before-and-after photo will go a long way when attracting new clients. Don't over-edit your photos and try to photograph guests in the same location for the before and after so it looks authentic. This is one of the fastest ways to gain new clients when you do it well.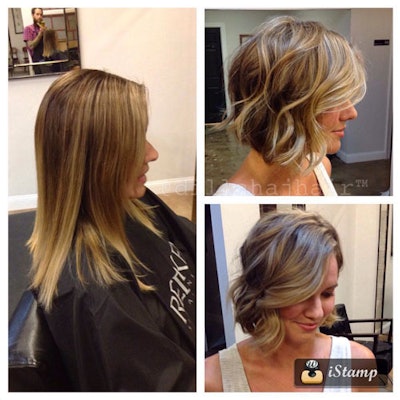 Stylists looking for an example on how to do social media the right way, check out short hair specialist Justin Dillaha (@dillahajhair) on Instagram. If you have a client on the fence about cutting their hair short, just show them Justin's Instagram account and let the short hair envy sink in!
4. Engage with Your Followers and Brands
If you look at the most successful social networking profiles, you'll discover they have a couple of things in common: supportive relationships and information sharing between followers. Think about it like this, if a guest was sitting in your chair asking questions about how to create that hairstyle at home, you would answer them, right? The same goes for social media. If you post a photo of gorgeous beach waves that you created and someone asks how you created that look, respond with the tools you used and ask if they would like to book an appointment so you can show them exactly how you did it. When you engage with your followers they can see you are listening and are more likely to book with you in the future. Remember, you are building relationships on social media and if you don't have a voice, you cannot build relationships.
Make sure that you go back to step 1 and plan a set time each day to engage with your followers. A little effort will go a long way to developing followers that trust you and want to make an appointment with you!
Another quick way to grow your following is to tag your favorite brands for a chance to be featured on their pages. For example, if you specialize in cutting hair and you always use Sam Villa shears, tag your photos using their handle (@samvillahair) and add their common hashtag (#samvilla) to potentially get your work reposted. When this happens, it adds credibility with your followers and let's be real, it feels good to have your work acknowledged by industry peers!
5. Measure Your Results
You've spent all of this time planning, executing and networking, so don't you want to know if it's all paying off? Remember to measure your results so you can determine which social platforms are creating revenue and which are not. First, whenever a new guest sits in your chair it is important to ask how they found you. Was it a referral from a friend who already goes to you? Maybe it was from a photo they saw on Instagram. Either way, remember to ask every time and if you notice people saying the same thing over and over again, you will know what is working for you when it comes to marketing.
If one of your goals is to gain more followers or perhaps more likes on each photo, there are lots of great third party Apps or insight tools to monitor all of this information. Check out Iconosquare, an excellent tool for measuring your Instagram account. Facebook Insights, a free tool that for all Facebook Pages, is great for analyzing clicks and engagement. You can also Google 'measuring social media' for more great resources.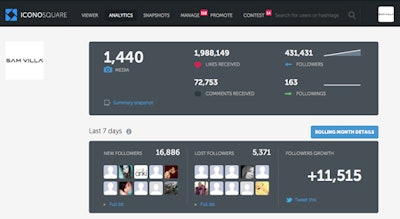 Every stylist on Instagram should be using Iconosquare or a similar third party app to measure all areas of their account. These insights are important to show you what your followers like and engage with.
The world of social media can be overwhelming, but it's the fastest way to get your name out there and clients in your chair. Plan, execute, engage and measure your way to social media success, and be sure to tag your favorite brands like #samvilla along the way!
Aspire for more,
Sam