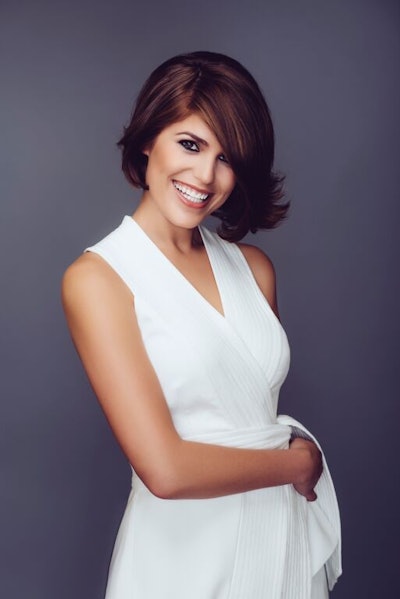 Fall is a great time for makeover madness! When the chill hits the air guests are ready for a change, especially those with sun-bleached locks – they're definitely ready for deeper richer tones. Guests really do embrace transition and they look to us to consult with them. Just mentioning the change of seasons is a brilliant conversation starter to amp up color business. Take the challenge this fall to shift your guests into new looks.

Geneva Cowen, Artistic Director for Sam Villa, and I spoke recently about how almost every colorist has encountered running behind on a new-growth touch up when another guest comes in declaring that they want a major change. This can be a sticky situation unless you plan ahead. See, when you plan ahead you not only give your guest something to look forward to, it also gives them six weeks to talk about your ideas to their friends, coworkers, and love ones to set their mind at ease. All of our clients want to share why they stay loyal to us, so give them a reason, while at the same time utilizing the opportunity to add-on services with the time needed to be creative.  

As you know, I'm not a colorist, so I turned to Geneva for a checklist of how she manages planning and scheduling enough time for color transitions in the fall to keep her guest looking beautiful and her business thriving.


Check List:

• Do your research! Decide on the trend direction you're interested in presenting to your guest and include specific points on why you feel the transition will be beneficial. Download the Redken Styling Station App; it has 1000's of formulas to reference to give you a diverse perspective and assist in your creative journey.

• Build a look book. Pinterest, Bangstyle, and Instagram are great references for inspiring images. Digital books like iPads and tablets are very easy to edit and adjust, or you can print out images and place them in a photo book. It's helpful to organize the images by Brunettes, Blondes and Redheads for easy reference. Celebrity references are always an easy sell, so have current images that you're interested in and let guests know why you chose the specific colors and tones.  

• Present new looks with passion and educate your guests, it will inspire them to embrace the look and trust you. The faster you sell your vision in an organized manner, the more trust you will receive in the process, and that translates to success.

• Discuss the price and commitment for the new look. Example: "Nina, for the dimensional highlights and a golden blonde glaze that we spoke about, your next appointment will be an additional charge of $____ and we will need to see you every 7 weeks to maintain this look. Let's look at our schedules and get you on the books today to ensure you get a time that works best for you." If you want to take extra time on a new look, set yourself up for success by pre-booking enough time for the transition.

• Look at your books the night before and think of ideas for your guests coming in the next day. Everyone wants to feel important, if you start the conversation with, "I was thinking of you and this is the concept I feel would be best for your new look," you are guaranteed to make him or her feel important. It is that simple!

We are all passionate about our craft, educate yourself on new color formulas and trends to work into your repertoire this fall and make a goal to consult with every guest on making a change for the season. I bet almost all of them will say yes, even if the change is a small one...and think about how much FUN that will be for YOU!!

Geneva was gracious enough to share some of the formulas she is excited about this fall – hope you have fun sharing them with your guests and building your color business!

Rich Dimensional Auburn/Attached Makeover Images
Before: Level 6 with sun-bleached highlights
After: Base/Redken Shades EQ equal parts 05C and 04NB; Midshaft and Ends/06CB and Dimensional Highlights/Redken Chromatics 10GI 20 volume

FAVE color formulas for prelightened Blondes for the new season with Redken Shades EQ mixed with equal parts Shades EQ Processing Lotion.  

Sheer Burgundy (dusty light cool pink)
1oz Shades EQ Crystal Clear
½ oz 05RV
½ oz Red Kicker

Warm Rose (beautiful cool strawberry)
1 ½ oz 09RB
½ oz 03A

Shimmering Sand (pastel blond, amazing for guests that don't like warmth, but don't want to be too cool)
1 ½ oz 09N
½ oz 09T
Photo Credits
Hair: Team Sam Villa
Photographer: Shalem Kitter