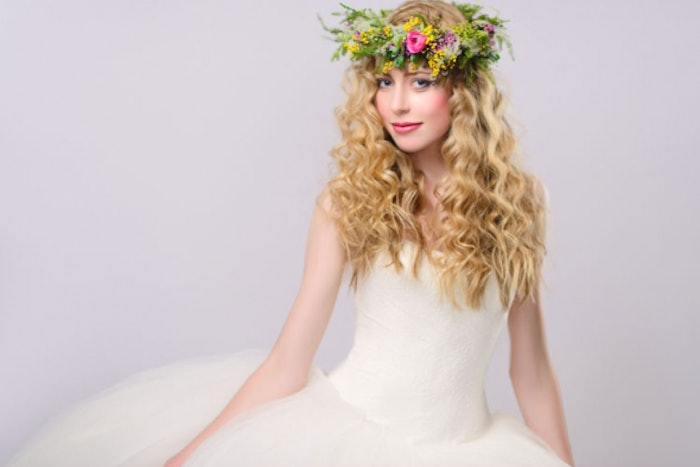 It's wedding season and love is in the hair! Brides are envisioning their glorious day with perfect hair, makeup and beautiful flowers. The big day has been in the works for some time and brides are certainly not thinking about wilted hair or flowers – they believe their stylist is going to create a fabulous 'do that will stand up to all the elements throughout the day and into the night.

Weddings are big business! Our commitment as stylists to brides is to paint realistic pictures, offer the best options according to their hair type, facial features and personal style and inform them of the current trends.

In order for the bride and the stylist to be set up to succeed it is essential to have a very detailed consultation with your bride. The sooner you can begin this collaboration the better. This is her opportunity to tell you her tale. You will want a picture of what her dress looks like, the aesthetic and vibe of the wedding, and if she is planning on wearing a veil. Let her talk and make notes. Discuss her desires for her hairstyle. Ask about the venue and determine what elements could potentially affect your bride's hair and flowers. If it is an outdoor wedding and it is typically 105 degrees you will need that information to be able to give them the best advice.

Be honest! If you feel the look she so desires will not hold up or will not be pleasing, gently offer alternative suggestions. We at Sam Villa feel it is very important to do a complete run through to be sure you both agree on the final style. We suggest allowing an hour and a half for this process and be sure to let her know you will be charging for your time.

Floral hair accessories are a hot ticket this season. Climate will strongly affect real flowers and your bride's look for indoor as well as outdoor weddings. You need to let your guest know what will and will not work as you begin your consultation.

You will be challenged in every area of the country for an outdoor wedding. Some flowers hold up better than others in heat and humidity. Do yourself a favor and build a relationship with a good florist. They will prove to be invaluable in recommendations for flowers throughout the year. Discuss the seasonal offerings that grow in the area. Seasonal flowers tend to be hardier and have longevity to the elements. Develop a Pinterest board that has images and ideas for these offerings to be able to reference them quickly.  

Be sure your bride understands the necessity of communicating what flowers will be used as hair accessories to ensure the florist can prepare them properly.

Hot Tip: Keep floral wire, tape and a small pair of jewelry wire cutters in your session bag in case your florals need something to attach them to your style. Cut 6 inches of wire, place the wire through the stem and pull until you have equal lengths on each side. Twist the wires together and wrap with floral tape. Insert the floral to your look like you would a hairpin.

Here are some traditional flowers that stand the test of heat in most areas:
Local, seasonal, and native floral
Roses
Miniature and large lilies
Gardenias
Wax flowers
Succulents
Zinnias
Sweet peas
Dahlias
Orchids and tropical flowers
Looking at creative options? Here are a few that will not wilt!  
Silk flower have come along way. They are beautiful option for bigger statement flowers that are delicate.
Paper Floral are making a splash with a vintage flare.
Succulents come in multiple colors and textures are being used as an interesting alternative to traditional floral choices.
Check List
Does the bride require you to be on location or is she having services at your salon? Discuss all travel fees and expenses.
How many bridesmaids are going to require looks? Do you need an assistant to be able to accomplish the task?
What time is the wedding and are there pictures before the wedding? Give yourself a 30-minute buffer to ensure there is no rush.
Will there be other talent, makeup artists or stylists who will be be apart of the process? Ask for the contact information so you can coordinate the time needed to complete your looks.
Does the bride want a style change after the ceremony? If so you will need to include this look in your trial run and charge accordingly.
Are your services required for the entire event? Make sure you have a clear understanding our your time requirements.  
Time yourself when doing a trial run to be able to schedule properly on the big day.
Take pictures of your trail to have a record and take notes on what you would like changed.
Make agreements and we suggest you create a contract that outlines expectations and fees. This would be signed at the time of the consultation.
Make notes on anything you would do differently on the day of the wedding.
Choose product wisely. Redken Control Addict 28 is one of my favorite anti humidly hairsprays.
If you would like to be known in your area specializing in weddings it is all about word of mouth. Having an organized procedure, process and resources for your guests will allow them to have trust that they will a stress free experience.

Credits
Photography: Shalem Mathew Photography
Hair: Geneva Cowen Artistic Director Sam Villa
Makeup: Keegan Richards
Wardrobe: David's Bridal
Flowers: Bloomsbury Blooms