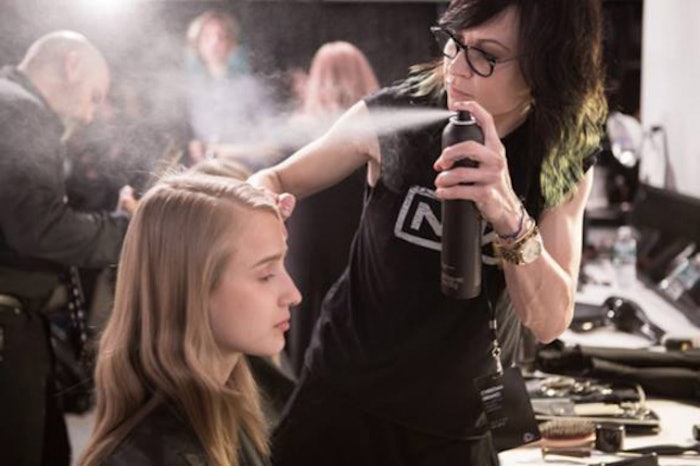 Too many cookies, too much eggnog, too many presents - I don't know about you, but the holiday season leaves me feeling like the bears know what they are doing with the whole hibernation thing… but don't get too comfy yet! Before you know it, it's time to boot and rally to the New Years Eve Par-tays!

For this New Years, the holiday wound up o-u-t OUT, and lazy, loose and flawless is where it is AT. Don't believe me? Just look to Christian Siriano's fall Fashion Week show where this look took to the runway!

Now, dust off those cookie crumbs and get your pretty little paws ready to make lazy pin-curls in seconds!

1. First, channel your inner pinup girl, and use a round brush to blow out your look for a smooth, satiny finish.

2. Then, spray with Sebastian Shaper.

3. Grab a section of hair near the crown of your guest's head, give it a little shake. You don't want to pull it too tight and deny your curl the lazy movement we're looking for.  

4. Make a loop with the section of hair in your hand, much like you would at the start of a slip-knot.

5. Using a flat iron, gently apply heat to the loop, patting it for for several seconds to create the desired shape.

6. Remove the flat iron and create another loop spaced below your first one and heat it. Once you've done this all over, brush out the curls and… VOILA! Your very own Lazy Pin Curl look! It's as easy as that, loves!
Now, stretch out those sleepy limbs and go let your inner pinup girl shine this New Year!

Don't forget, lazy or not, I love me a gorgeous pinup, so snap a pic before the ball drops and tag me on Instagram: @kokentheharlot.
[Images/video courtesy of Evoke Brands]