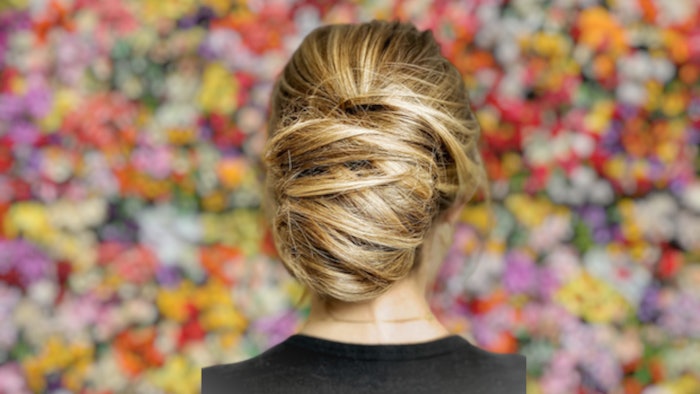 Courtesy of Lindsey Olson (@lindsey.marie.olson)
If you are looking for a bridal style for long hair, your search stops here! 
Hairstylist Lindsey Olson (@lindsey.marie.olson) shares her process for prepping longer hair for a modern French twist. 
Follow the tutorial below to create this look for your bridal clients!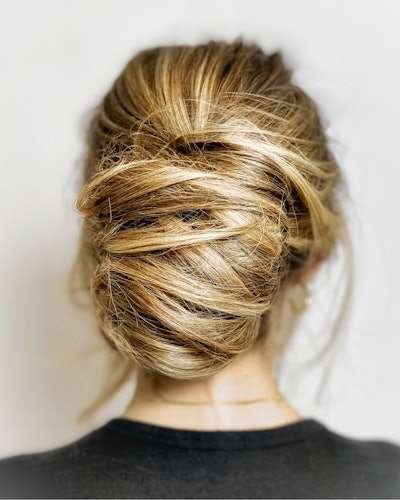 How-To: 
Dry mousse with Redken Root Lifter to build volume (apply mousse, comb through and blow dry).
Apply Redken Thermal Spray for hold and protection to each section before curling.
Using vertical sections, roll hair away from the face using a 2-in-1 Marcel Iron and Wand and figure 6 technique. Prime hair by rubbing the iron down the section to heat, then wrap and heat the base around the tong first, then the mids and ends to create maximum control over the style.
Top: Use horizontal sections, with on base direction to create volume at the top. Hold 45° above a 90° angle and roll away from face to heat, then clip to cool. Front: Roll towards face 45° above a 90° angle.
Cool, remove clips and break up texture with fingers – this foundation creates the most longevity for an up style.
Use just the barrel of the 2-in-1 Marcel Iron and Wand to spiral wrap sections to create multiple texture and dimension.
Gather all hair to back, brush with hands and use a small elastic to make a ponytail.
Split tail with fingers to create a gap and pull hair halfway through the gap to create a roll and texture. Pull hair to opposite side to create more tension, secure to base with large pins.
Pinch hair around scalp to create extra texture, and finish with Redken Spray Wax for extra shine.