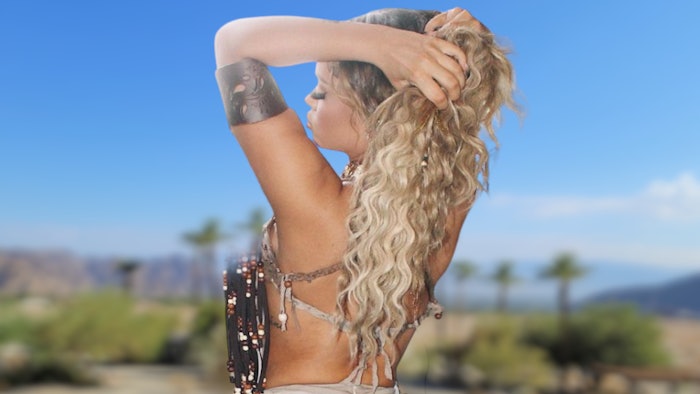 Courtesy of Ashanti Lation and göt2b
Rapper and singer LATTO performed during the first weekend of Coachella. 
Hair Stylist Ashanti Lation (@viphair_ashanti) created a waist-long hair style for her performance using products from göt2b. Lation said that the inspiration for the look was "Southside Shakira." 
"We wanted to go with a carefree and festive style that matched the moment and mood of what Coachella is all about," Lation said. "The loose beach waves remind us of summers in St. Tropez, complemented perfectly by a few well placed Bohemian braids, woven with shiny gold tinsel and leftover pieces from Latto's beaded mesh shirt. The entire look was a definite showstopper!" 
If you want to know how to create this look for your clients, look no further. Lation shares her tutorial below.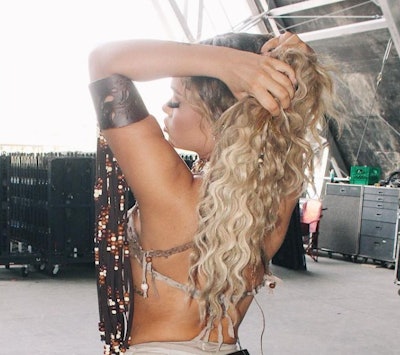 How-To: 
This fun and festive hairstyle was achieved using a hair crimper to create these bouncy beach waves. Lation used her göt2b glued Blasting Freeze Spray to lock in the look without making the hair stiff. 
 Lation needed LATTO's edges to hold up in 90-degree heat, so after using her göt2b glued Styling Spiking Glue to slick back the front of the hairline, she used the göt2b glued For Protective Styles Bonding Glue to lay down LATTO's baby hairs. Lation ended up using two layers of glue to make sure LATTO's edges didn't get sweated out during the performance. The bonding glue dried clear, leaving very natural looking edges. 
For a bit of flair, Lation decided to add a few Bohemian-style braids. She wove in some shiny gold tinsel along with leftover material from LATTO's outfit and used the göt2b glued For Protective Styles Bonding Glue to secure everything in place.