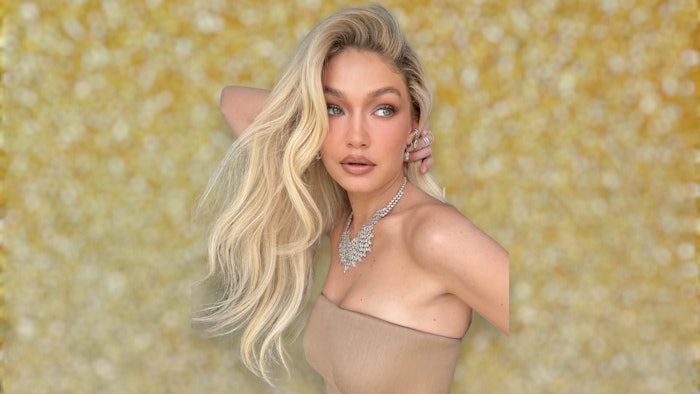 Courtesy of Dimitris Giannetos
Gigi Hadid walked the red carpet for the premiere of "Firebrand (Le Jeu De La Reine)" at the Cannes Film Festival looking like a real-life Barbie. 
Her hair look for the night was created by celebrity hairstylist Dimitris Giannetos (@dimitrishair). Giannetos combined three current hair trends to create the finished product: the heavy side part, Old Hollywood waves and the '90s supermodel blowout.
"While creating the look for Gigi's first red carpet in Cannes, we wanted the hair to look like old movie star but same time modern and a bit more rough," Giannetos told Glamour. 
If you want to learn how to create this look for your clients, follow the tutorial below. 
How-To: 
Start with clean wet hair and prep strands with heat protectant. 
Next, apply a generous amount of volumizing mousse. 
Once your hair is prepped and protected, divide your locks into two-inch sections and dry each piece using a blow dryer or hot brush. 
Section hair starting in the back, and work your way up the head. Make sure to direct the hair out, up and away from the face to ensure proper lift at the roots.
Pin each section up after drying to lock in the hair's bouncy shape. If you want maximum volume, use old-school Velcro rollers. Let the hair cool for at least three minutes. 
Then, release and brush through each section, applying dry shampoo at the root for added volume.
Finally, lock in the style with all-around texturizing spray.