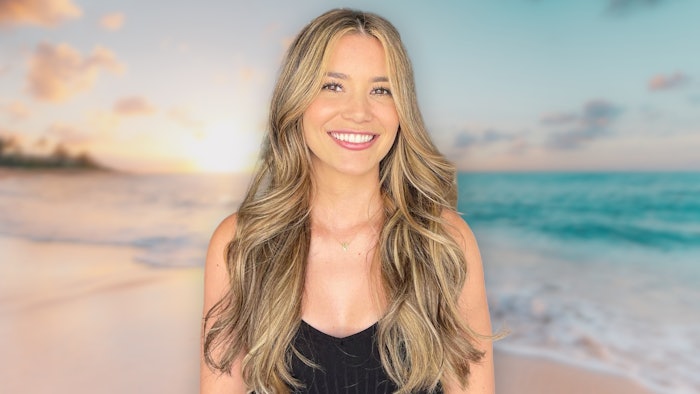 Courtesy of @styledbykenzieg
Midlights are the latest hair color trend that promises to make highlights look natural, cohesive and sunkissed. 
Coined by celebrity colorist Matt Rez (@colorbymattrez), midlights are considered an in-between shade that connects your client's base hair color to their highlights to create a seamless blend that avoids making highlights look stripey. 
"Matt is an absolute color genius and created the midlight technique, which has truly transformed the hair color game," says Hair and makeup specialist Kenzie Grimes (@styledbykenzieg), who was Rez's assistant. "I personally love the midlight technique because with dimensional highlights, they connect the natural darker base to the highlight." 
Normally, a midlight is no lighter than two levels of your base color and no darker than two levels of the highlight color. A weaving foil technique is typically used to create the look. 
"With the highlight, we are usually lifting 3-5 levels, and with a midlight, you are only lifting 1-2," Grimes shares. "Strategically placing the midlight allows for connection and flow through all tones of the hair." 
Because this hair color trend works on all base colors and hair textures, it's an unsurprising trend that many clients will likely be asking for as spring and summer inch ever closer. 
If you want to learn how to create midlights, look no further! Grimes shares how she created a dimensional blonde hair look, featuring midlights. 
"Make sure your midlights are very fine and controlled," Grimes advises. "Going too large with your weave or doing slices could cause a lot of unwanted warmth. They are placed very precisely in order to achieve a well-rounded look." 
You can get her full tutorial below. 
How-To: 
Use Redken Flash Lift Bonder Inside and Olaplex No. 1 to tip out hair.
Foil with highlights and midlights. 
Root with Redken Shades EQ 4N and 3NB. 
Gloss with 60g 9GI, 30g 9NB and 30g 8GG. 
For more information on the midlights trend, Matt Rez offers a Pro Beauty Central Class on SalonCentric.