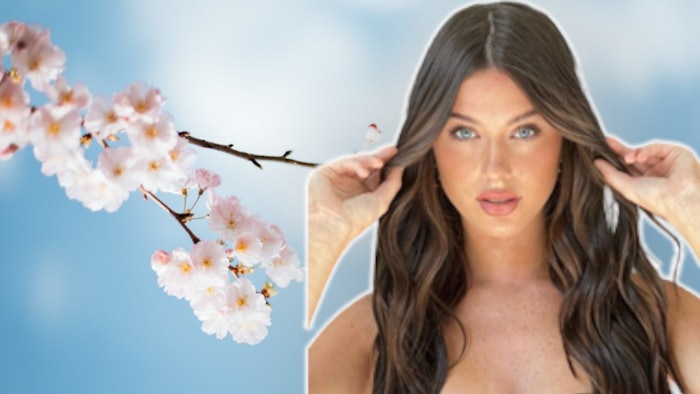 Hair Imagery Courtesy of R+Co and IGK
Two experts from IGK and R+Co weigh in on the hottest spring hair color trends that you should have on your radar.
They also give their product recommendations to keep color-treated hair healthy and refreshed. You can get their recommendations below. 
Chase Kusero (@chasehair), Colorist and Co-founder of IGK Hair Care
Hair Trend Predictions:

Sombre: A softer, more natural version of ombré.
Warm Golden Highlights: A classic for spring and summer that never goes out of style.
Lived-In Brunette: Low-maintenance shade, allowing the hair to grow out naturally.
Expensive Blonde: A glossy, high-shine, multi-dimensional blonde.
Product Recommendations:
 For color treated hair, clients can use IGK Pay Day Shampoo and Conditioner to treat fragile, damaged, over-processed hair and instantly repair.
IGK's Cash In Instant Repair Serum repairs dry, damaged, heat and chemically-processed hair. This product delivers 360-repair, reducing breakage, sealing the cuticle for high-shine and smoothness, protecting from heat damage and zipping up split ends.  It can be used alone on clean, damp hair and air dried, or blow dried, and mixed into any styling product.
Recommend a heat protectant to clients if they blow-dry and/or style with hot tools like flat irons or curling irons. Good Behavior 4-in-1 Prep Spray offers heat protection up to 450°F, to prevent heat from damaging the hair cuticle – and a healthy cuticle holds color longer!
Maintain blonde color and help prevent brassiness with IGK's L.A. Blonde Purple Toning Treatment Spray, with violet pigments for an instant toning effect that you can quickly and easily spray right onto damp strands. It's infused with hydrating Hyaluronic Acid and Squalane to keep blonde strands nourished, which are inherently more prone to damage and dryness.
Richy Kandasamy (@richykanda), Colorist and R+Co Collective Member
Hair Trend Predictions: 

San Francisco Blonde: This is a sophisticated and natural golden blonde with a warm-tone. We will see it on classic, natural highlights or money pieces as face framing. It works very well with clients that have a fair, neutral or pink complexion and cool skin tone. This color evokes spring and Vitamin D.
Central Park Brunette: A modern, timeless color that evokes strength. This is a deep or dark intense hue but yields maximum shine. It is a statement look with a luxe vibe. 
Penny Lane Copper: Shades of copper will continue to be popular in 2023, ranging from clementine to even deeper shades of warmer copper. It will be a standout color. It is a great color to brighten up and frame your face to complement cool skin tones and fair complexions.
Product Recommendations: 
The secret of color maintenance is to not use hot water when shampooing. Also use only sulfate free shampoo, like R+Co GEMSTONE Color Shampoo.
To maintain blonde shades, conditioning and shine are key! Apply a masque once or twice a week, like the SUNSET BLVD Blonde Toning Masque.
Another must, once a week, is the GEMSTONE Ultra Shine Glossing Treatment. It adds a reflective film gloss that also protects hair from UV rays, which is often a main culprit for color fading.