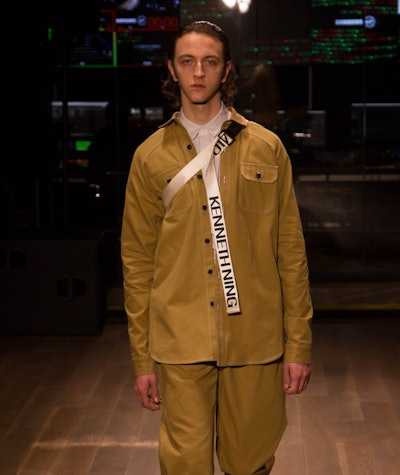 At New York Fashion Week Men's F/W 2017, lead hairstylist, T. Cooper of Metro Look, and her team were sponsored by SEVEN haircare to create slick hair for Kenneth Ning. The show took place at the new technology themed event space, Samsung 837, in New York's Meatpacking District. Kenneth Ning moved from the San Francisco Bay Area to New York in 2007 after showing his senior thesis during New York Fashion Week in Bryant Park for the Academy of Art University fashion show. He went on to work at such notable labels as Calvin Klein and Michael Kors, until launching his eponymous collection in Fall 2014. Kenneth Ning has implemented his passion for clean tailoring and innovative techniques into a youthful, wearable-cool approach to sportswear. His label has quickly developed a following both domestically and abroad.
The collection was inspired by Michael Douglas' character, Gordon Gekko, in the 1987 film, Wall Street. The space in Samsung 837 set the tone by featuring a digital installation of the NASDAQ SE composite index on Samsung LED monitors.
"Kenneth told me that he wanted to bring Wall Street to Main Street, and that he wanted the models to look like evil villains. Let's face it, that's what a lot of guys in finance are," laughs Cooper. "I immediately knew that I needed to partner with SEVEN haircare to create these looks. I referenced the Joker's deep-parted, sleek style for shorter haired models, and Penguin's slicked back waves for models with longer locks."
Cooper named the style the "City Slicker", and it was created by "cocktailing" SEVEN haircare products: Satara Seal, Borato Mousse, Satara Waxx, Gazar Shine Spray, and Kente Strong Hairspray. For models with short hair, the stylists began by spraying their hair with Satara Seal, and a part was created in either the center or side before blow-drying the hair smooth. Next, Satara Waxx was worked through the hair, and then brushed to create a sleek look. To complete the look Kente Strong Hairspray was used to freeze the hair in place, and Gazar Shine Spray to give the style a wet look. Long-haired models had their hair saturated with Borato Mousse and brushed straight back. The hair was then blown with a diffuser to bring out their curl pattern. The hair was finished by using Gazar shine spray for luster.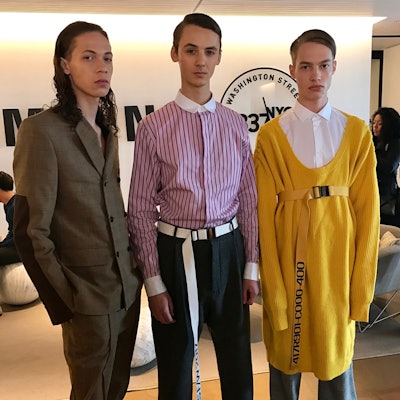 Meanwhile, key makeup artist Dana Arcidy of Metro Look used Bioderma skincare to create a dewy look for her models. Ning wanted the models to have shiny looking skin, "almost as if they were sweating." Arcidy wanted to find the right balance and avoid making the skin look oily for flash photography. She explained that she created the look more with skincare than makeup, since she didn't want to add shimmery highlighter to her male models or make the skin look made up. Instead, the Metro Look team made sure to be liberal with moisturizer and sparing with powder.
The team prepped their models' skin with Bioderma's Sensibio H2O, which was great for models who had just come from other shows and had makeup on as well as those with bare faces. The artists then massaged Hydrabio Moisturising Cream into the skin, which is specially formulated for dehydrated and sensitive complexions. Arcidy said, "A lot of men have dehydrated skin. Shaving can cause a lot of irritation, and aftershave only makes matters worse, and most men don't use a moisturizer. This cream is great, especially during the winter."
Arcidy instructed her team to apply skin makeup sparingly, covering up blemishes and dark circles, but allowing the skin to remain natural. One of the models even had a scar on his face, which Arcidy decided to leave since it was so fitting for the theme. Bioderma's Restorative Lip Balm was applied to the lips and long brow hairs were combed into place, and then, once dressed, the models were perfectly handsome villains.