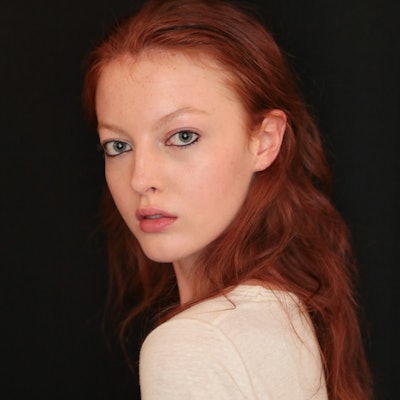 French designer Cédric Charlier recently premiered his spring collection in New York City for the first time - four months ahead of the typical New York Fashion Week calendar. Shown under the romantic backdrop of the city skyline at sunset, the Cédric Charlier Spring/Summer 2017 Collection was titled "Conflict and Opposite," and was inspired by a contrast of the lightness of David Hamilton's photos and the glam-rock spirit of David Bowie, Lou Reed, New York Dolls and Debbie Harry. "The contrasts between these worlds, styles and attitudes are so different," says Charlier. "I explored the glamour in my own way, unusual details and then adding new words to my vocabulary, always thinking that the difference and contrasts can bring new solution, new vision and unexpected opportunity."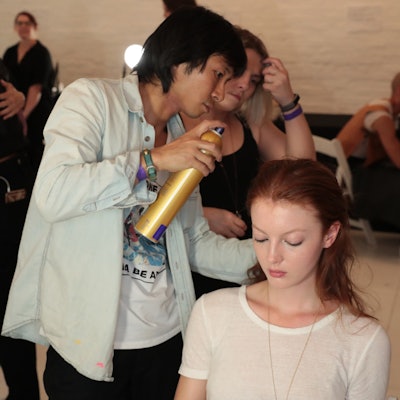 Runway stylist Shinya Nakagawa for Pai-Shau created the hair design for the show. To complement the collection, he designed weightless, natural looks that enhanced the beauty of each model's hair type. The end result? Straight, flowing locks with a hint of volume and texture.
Recreate this easy, breezy summer style for your clients with the how-to below!
Get the Look:
Apply Pai-Shau Biphasic Infusion on damp hair before blow-drying straight. Note: shake well before applying in order to activate the dual-phase technology that allows the tea concentrate to deeply penetrate the hair.
Pin the top layer of the hair at the crown. Take a small section of hair below the crown and straighten with flat iron, continuing down the back and sides.
Apply Pai-Shau Style Soufflé to each section of straightened hair for added control and a touch of volume with natural movement. Blow-dry those sections, keeping hair taut at the ends to straighten.
Add a small amount of Pai-Shau Royal Abundance Mousse to palms, then run hands through the hair in selected sections where needed.
Lifting the upper layers of the hair, spray Pai-Shau Sublime Hold Hairspray on small sections underneath, starting at the roots for subtle fullness where needed.
To add a slight touch of natural texture, curl small sections of hair around a 1-inch wand or marcel iron, hold for 10 seconds, then release.
Brush the hair, then tuck behind ears and pin in place. For fine hair, finish with an all-over spray of Pai-Shau Imperial Hold Hairspray for moveable hold.