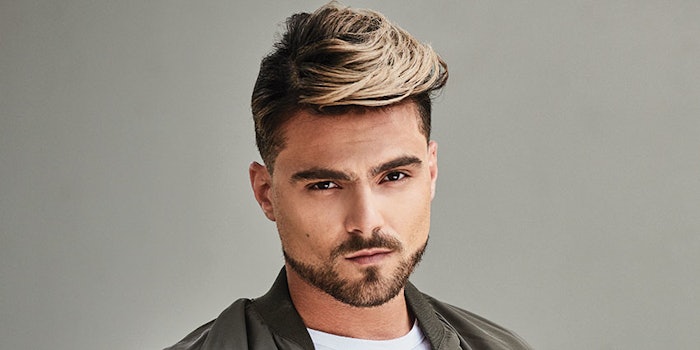 The topic of men's hairpieces often carries an unfortunate stigma, making it more taboo than readily discussed wefts for women. Enter American Hairlines: A leader in nonsurgical hair-replacement systems, the brand is on a mission to revolutionize that conversation. Today's technologically advanced offerings go well beyond grandpa's toupee or dad's hairpiece, blending comfort with security and durability as well as the appearance of natural growth. "Our dedication to quality starts with the hair we source, and extends through our manufacturing, packaging and distribution processes," says Michael Napolitano, president and CEO of HairUWear, American Hairlines' parent company. Here's how hair pros can initiate this potentially sensitive subject with male guests, for the mutual benefit of both the stylist and client.
Jump-starting the Conversation
"Part of the problem regarding men's hair replacement has to do with people seeing too many bad results," says Brandie Reyes, American Hairlines educator and stylist. "It's our job as professionals to teach clients what looks good on them and how to make new styles work." That's made possible by the company's commitment to education, spanning experience with cosmetology, hairstyling and product development. (American Hairlines offers two-day certification courses providing in-depth coverage regarding nonsurgical hair replacement's extensive possibilities, plus how to formulate systems to each client's specific tress needs.) "Our products are crafted with quality and care, meaning they're easy to use if a technician is well-trained," says Napolitano.
Stylists should avoid using words like "toupee" and "hairpiece" when first broaching the topic, because such terminology often carries negative connotations. Instead, speak toward solution-oriented approaches and how getting nonsurgical hair replacement can help attain styling freedom via high-quality products. During the consultation, consider factors like hair loss amounts or percentage of remaining follicles, density, texture, color and areas of most prevalent thinning.
"If you have a man sitting in your chair making jokes about balding or saying things like, 'Just work around that hole in the haircut,' it's a first clue that he's self-conscious about his thinning scalp," says Reyes. Continue the discussion by gently—yet directly—asking how he feels about his hair overall. This opens the gate for pros to help guests grasp their available options—in this day, no one need settle for the hair cards they've been dealt. "Since there's no secret potion to growing hair, stylists should equip themselves with the information and techniques required to service clients," says Milciades "Manny" Rolon (@mannymakeshair), salon owner and American Hairlines brand ambassador.
Benefits for both Stylists and Clients
Presenting a novel service to existing clientele is a sure way for stylists to gain new customers and increase revenue. "American Hairlines offers systems programs, which translate to consistent revenue each month," says Napolitano. Further, hair loss and replacement clients fall into a different bracket than those who schedule cut or color services. Once given the opportunity to regain confidence, the majority of happy guests won't go without it again, meaning bonds with customers are forged for life. "The reality is, a good portion of the population is losing hair," says Rolon. "Pros not providing grooming services to address that need are missing out on huge opportunities."
Benefits likewise abound for customers whose wide range of options include 14 different American Hairlines tress systems. Each service starts with a thorough consultation, evaluating the extent of hair loss: Is thinning just beginning or has progressive fall led to classic horseshoe-pattern baldness? Other factors pros consider include age, activity level and amount of maintenance your client is willing to employ.
Advice for At-Home Hair Care
"When shampooing in the shower at home, make sure men know that hair should flow continuously in the same direction in order to avoid tangling," says Reyes. A WetBrush plus leave-in conditioner will be a guy's best friend for combing straight out of the shower. Finally, gents should avoid combing through with excessive product, and always wash out products like waxes and styling pomades before turning to the brush or comb. "Our goal is to consistently exceed expectations," says Michael Ferrara, HairUWear chief marketing officer. "We understand the unique needs of every client, and our systems are designed to be customized for any budget and lifestyle."
Check out these top offerings from HairUWear, made just for men.
Trend III: Part of the Virtual Reality program, this product is designed with the broadest front hairline of all the Trend systems. It's best suited for clients with less recession along the front or those with thicker strands, due to its generous density.
Trend II: The number-two bestseller is beloved because it can be applied in a variety of ways. A customizable base with no lace provides secure hold.
Ultima: Light density, transparent skin plus a natural look and feel make this a wildly popular system. Wear time is shorter than other systems (approximately one month).
Galaxy Lace: An impressive combination of technologies—Swiss lace materials, micro knitting, colorless knots, a surrounding perimeter of lightweight, clear poly—guarantees a minimum of four-month wear time with the right care. @hairuwear_inc