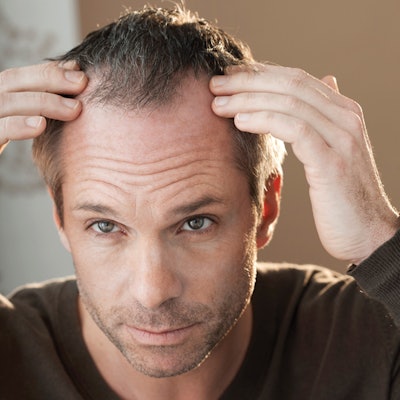 Hair fall affects millions—but modern solutions are changing the name of the tress-loss game.
People typically lose about 100 hairs per day, say Mayo Clinic experts. But this type of tress fall shouldn't be alarming because it doesn't cause noticeable thinning, since new hair growth likewise occurs daily. However, roughly 50 million American men do su er from male-pattern baldness, which generally starts with a receding hairline and thinning crown. Fading next progresses over the entire scalp, often leaving a distinct horseshoe pattern of remaining strands. That may begin at any life stage, though it's most common after age 50, when more than 80 percent of men experience some form of hair loss. The good news? Today's technology offers better solutions for preventing and combating tress thinning, while stylists' cuts can also help minimize the appearance of a waning hairline.
Causes for Loss
"The primary cause of thinning for men is a genetic predisposition called androgenetic alopecia (AGA)," says Michelle Blaisure, certified trichologist and product specialist with Bosley Professional Strength. This means the individual inherits hair follicles that are sensitive to dihydrotestosterone (DHT), a hormone that stimulates male characteristics like testosterone. Over time, these follicles start to miniaturize and inhibit hair cells from reproducing in a normal way. Strands around the temples and mid-scalp are especially sensitive to DHT, which is why those tend to go first. AGA is incredibly common: It accounts for more than 95 percent of male hair loss. "Close to 66 percent of men will thin by age 60 due to AGA," Blaisure informs.
RELATED: Top Barbers Name 2019's Ones to Watch
Aging is the second reason for hair fall. "Just as our body and skin ages, so do hair follicles," says Blaisure. "The growth cycle, called anagen, slows, and more hair stays longer in the telogen resting cycle, so over time density lessens and follicle diameters become smaller and weaker, leading to thinning."
An autoimmune disorder known as alopecia areata is yet another prevailing factor responsible for the appearance of bald patches on the head, eyebrow and beard. Believed to have a genetic component, this disorder may also be provoked by stress. "When triggered, the immune response engages and inflammation occurs in a specific area, causing strands to fall in clumps," Blaisure explains. Events typically last six months then calm enough for hair to grow back, but recurrences are common.
Winning Styles
One size does not fit all when it comes to finding the right haircut for thinning clients. "To minimize the appearance of thinning strands, or what barbers like to call a 'soft hairline,' the right cut can make a huge impact," says Nieves Almaraz, Wahl education and artistic team member. Here are a few top looks to try.
The Slick-back: A skintight snip on both sides and back results in added length on top, which contributes to the appearance of fullness. "This is a great choice for someone who prefers a conservative cut, especially when hairlines are receding," explains Danny Amorim, education director for Gibs Grooming and global educator for Andis. "It pulls the eye away from the hairline, and you can use some of the weight in front to cover possible thinning near the crown."
The Textured Fade: Left messy, this style makes strands look fuller. "Add minimal texture when working with fine hair," directs Amorim. Proper product placement is key. "I recommend blow-drying to infuse extra volume, then finishing with a thickening cream," says Almaraz.
RELATED: 11 of the Country's Best Barbershops and Male-Focused Salons
Hair Today, Not Gone Tomorrow
Two tips for clients to help maintain healthy hair!
Hats Off: Advise that clients ease off caps and hats, especially when playing sports or working out. "Hats can suffocate scalps, leading to hair thinning," says Danny Amorim. "Remember: Healthy skin creates nourished hair."
Chill Out: Stress affects the risk of developing alopecia areata, so reduce the frequency of those attacks by finding balance. "Get eight hours of sleep, eat nutrient- rich foods and incorporate some form of movement into daily activity," Michelle Blaisure suggests.
The Buzz Cut: Rather than attempting to hide hair recession, the buzz cut reveals skin, thus reducing the contrast between hair and forehead. "For some clients,
I like to buzz down the top portion of the head with clippers on a low setting," says Almaraz. A detail trimmer can be used to ⇒ll in softer spots, like fibers near the front.
Perfect Pieces
Millennials are leading the charge on the growing Hairskeen market.
One relatively new option for hair replacement sans surgery? Hairskeen products. "The service uses advanced skin and lace technology to provide the appearance of hair that looks and feels like it's growing from the scalp," says stylist and educator Philip Ring.
How it Works...
A client undergoes a thorough stylist consultation to decide the color and Hairskeen system that works best for his lifestyle and budget.
After the hair arrives, a stylist shaves the client's scalp and covers it with special antiperspirant, followed by an adhesive, securing the Hairskeen in place. The process takes up to 90 minutes.
New hair is trimmed according to the desired look, and clients are taught how to care for their new Hairskeen. "The thinner and more invisible a system, the shorter it will last—plan on one month to six weeks," says Ring. "A system with more layers of poly can withstand up to six months."
Superior Solutions
Help combat hair loss with these effective brand offerings.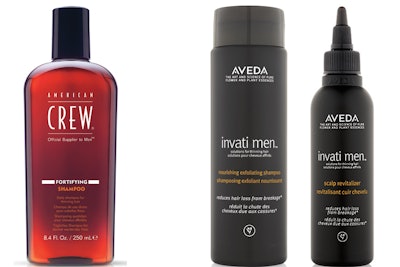 American Crew Fortifying Shampoo removes buildup for increased volume with ingredients like rosemary leaf extract.
Exfoliate and condition the scalp with Aveda Invati Men Nourishing Exfoliating Shampoo, then help thicken hair at the roots with Scalp Revitalizer leave-in treatment.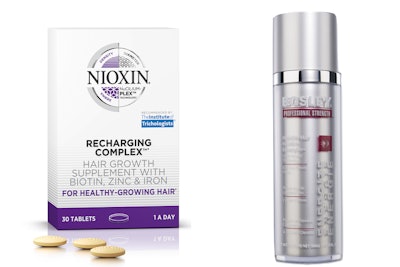 Nioxin Recharging Complex supplements provide necessary biotin, zinc, iron, and other essential nutrients needed during the anagen phase of the hair growth cycle.
Bosley Professional Strength Follicle Energizer promotes microcirculation at the scalp thanks to a special blend of activators that stimulate hair growth.
GroMD Shampoo & Conditioner features a proprietary blend of DHT blockers that works to halt hair fall.
Eufora Hero for Men Scalp Rescue delivers a major dose of exclusive ProAmino Peptide Complex to soothe irritation and invigorate domes for optimum hair health and retention.
[Images: Courtesy of manufacturers; Getty Images]