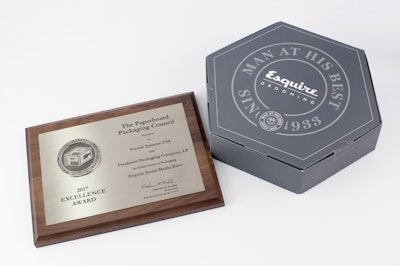 Esquire Men's Grooming announced the brand's packaging designs won an Excellence Award from the prestigious 2017 Paperboard Packaging Council Awards. Owned by Houston-based Farouk Systems, the Esquire Men's Grooming Collection is an extension of the iconic magazine's philosophy, "a man at his best," and captures a lifestyle focused on luxury, sophistication and style.
This year's competition entries were judged by a panel of packaging experts from diverse categories across the industry. Esquire Men's Grooming won an Excellence Award for its unique design of a launch vehicle created to engage social media influencers and tastemakers in posting photos of the bold and masculine box, driving viral buzz about the brand.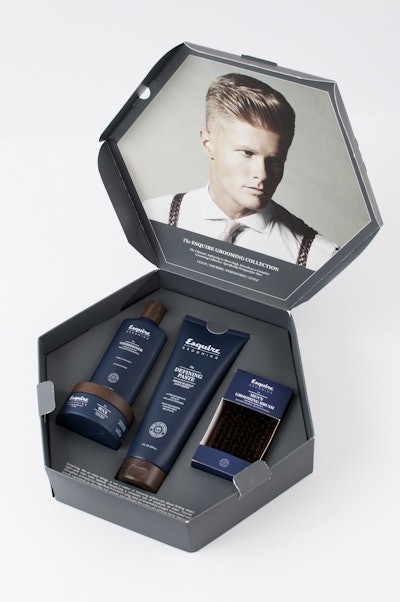 The design is anchored in a hexagon shaped box, which breaks from an ordinary carton and creates a stylized promotional piece with character. By focusing on a shape that allows Esquire's familiar logo to be highlighted, the products were presented by an established company with a superb reputation. Inside the products were displayed in a compact, efficient manner, with a solid color that complimented but did not distract from the products themselves.
"Winning this award at such an early stage of the brand's development is an amazing endorsement," said Celeste Figueroa, Director, Marketing and Communications at Farouk Systems and one of the co- designers of the package. "The Esquire man has discerning taste, so packaging plays a major role in how we tell our brand story. This award is a great testament to the power of the Esquire brand and our strong, visual identity."
[Images courtesy of Farouk Systems]