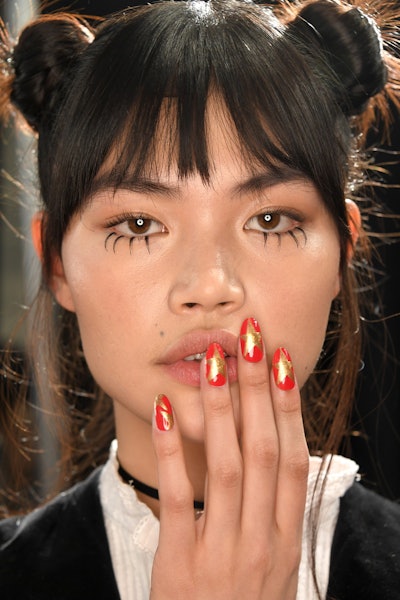 Season after season, the hair at the Jeremy Scott show reaches extremes, from Barbie bouffants to geometric bowl cuts. Not so this season: "We're going in a completely different direction," says Wella Professionals global creative director Eugene Souleiman. "The idea behind the collection is how we worship social media and celebrity, and Jeremy casted the show beyond models: There's different ages, ethnicities, bodies, etc. Each person has been chosen explicitly for her individual look." It follows that Souleiman should only work with the god-given beauty of each catwalker. "I'm simply amping up what they're born with," he says, citing that he is literally using every styling product known to Wella to accomplish his goal. "It's the whole she-bang; too many to list," he laughs, though he does cite Wella EIMI Sugar Lift Sugar Spray as a go-to for many styles.
The makeup is more uniform, which longtime Jeremy Scott collaborator and MAC lead Kabuki calls a "bit pre-raphaelite with the hair and a little early Seventies." He cites a photo of actress Shelley Duvall in the movie Nashville as the inspiration for spiky lashes that rim the lower lash line, which he creates using MAC #7 Lash stripes cut into tiny clusters. As for the palette, he references the collection: "There's a lot of imagery of idolatry from Elvis to Jesus all mixed up together ... as well as a little bit of the statue of the Virgin Mary, and the color palette used there [is] salmons around the eye, pinks and rosy cheeks." A tap of MAC Versicolour Stain in Energy Shot on lips lends a sweet pink stain while cheeks have a healthy flush thanks to Kabuki Magic Powder Blush Duo in Today We Live. A mix of MAC Cream Colour Hush and Tint wash over the eyelids, reading soft and delicate against the spiked lashes.
In their first NYFW runway collaboration, CND nail lead Miss Pop and CND co-founder Jan Arnold mind-melded the mega-bright almond tips for the show. "Jeremy's collection features every color under the sun except for one, which we created," says Arnold. That color, described as "sun soaked red," is achieved through layering: a base coat of Vinylux Banana Clips yellow, followed by Electric Orange and topped by Wildfire red. "It's an iconic red nail that's been laying in the sun catching some rays and having some fun," Miss Pop says.
To tie in the nails with the collection's religious-meets-pop idolatry theme, Miss Pop plucks her inspiration from the stars on the Hollywood Walk of Fame, painting what she calls co-stars, rising stars and bold stars across the nails using Vinylux Brass Button and a striping brush. "You need a grittier glitter gold for this, and Brass Button is it. It's less Sunset Boulevard and more Melrose Boulevard," Miss Pop laughs. —Karie L. Frost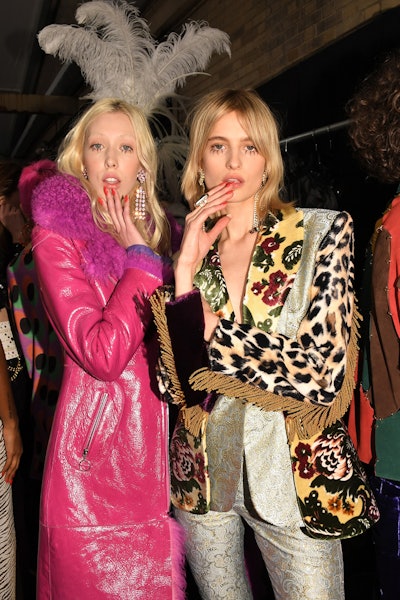 [PHOTO CREDITS: Courtesy of CND]