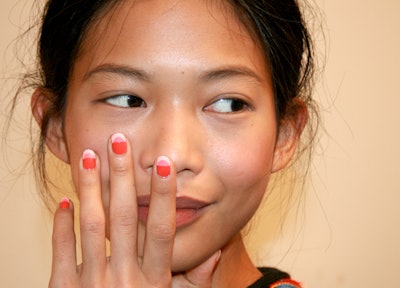 The '70s have circled back yet, bringing the decade's easygoing vibes and effortlessly cool beauty to the Rebecca Minkoff show. Style icons of the era inspire the groovy look backstage, where Lead Hairstylist Tommy Bucket weaves a textured rope braid to complement the collection's bohemian aesthetic. "Rebecca was really inspired by Ali McGraw's hair, her center part, her super clean look," explains Bucket. "We wanted to make it a little more modern with a messy texture to it."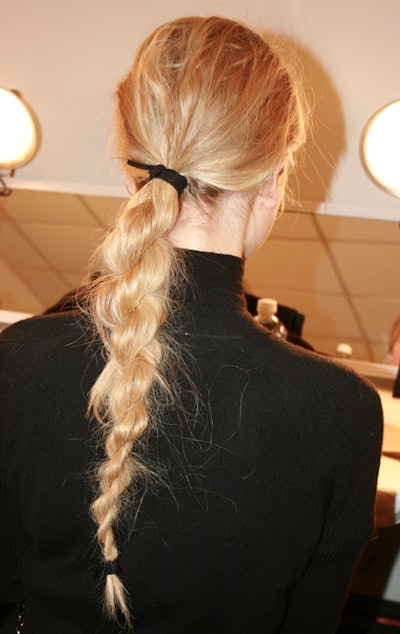 He preps the hair with texturizing spray and thickening lotion for a rough, dry texture, which serves to help increase grip and decrease slip. Bucket crimps and adds bends into the hair with a flat iron—another aid in allowing for better dexterity with the hair. He then center parts the hair and pulls it back into a low, baggy ponytail, securing it with a piece of suede to add a touch of '70s detail from the collection. After separating the tail into two sections, Bucket twists each part in opposite directions before twisting the two sections together to create the rope braid. He finishes the look by securing the bottom of the braid with more suede and uses his fingers to pull apart and rough up the rope's texture. "We are encouraging texture, a little bit of flyaways, naturalness—we want that '70s ethereal feel to it," he concludes.
English singer Marianne Faithfull is another flower-power icon that inspires the soft, clean makeup, where the focus shines on on luminous skin with flushed cheeks and full brows. Kevyn Aucoin Beauty Makeup Lead Viviana Martin first uses the Kevyn Aucoins The Sensual Skin Enhancer on the skin to perfect skin tone and The Precision Brow Pencil to brush-up and feather in brows for increased fullness. Martin dabs The Creamy Glow in Patrice onto to the cheeks and blends it for a veil of color.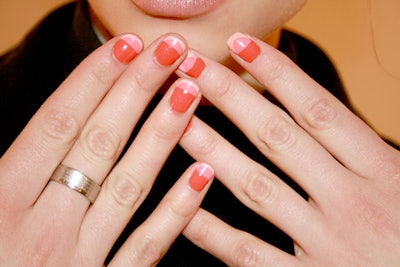 Warm, coral shades in a stunning graphic color block on the nails add a pop of color to the overall look. Essie Lead Manicurist Michelle Saunders paints a "tone on tone on tone" nail design using three new shades from the Spring 2016 collection. Saunders starts by applying Essie in Sunshine State of Mind from the cuticle of the nail to the middle. Then, using a clean-up brush dipped in nail polish remover, she carves a straight line. She follows with Essie Lounge Lover, keeping the color application from the middle of the nail to the tip. She finishes the design with an arch of High Class Affair at the free edge.