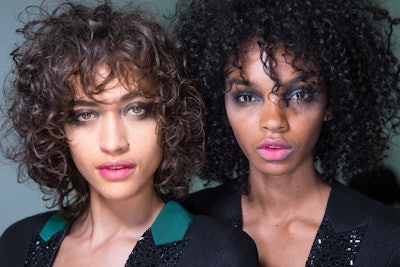 Move aside matte lipsticks; this season's hottest runway lip trend, stained lips, has bumped flat-finish pouts to the wayside—if only for a season. Though runway artists mostly used a combination of lipsticks, glosses and sometimes eye shadow to achieve a stained "effect" backstage, true lip stain formulas used off the catwalks can be a tricky bunch (they do like to set up residence immediately, after all). Here, our pros offer their troubleshooting tips.
Clean Up
If the color travels outside of the lip line, makeup artist Azra Red, who counts Tarte Cosmetics and Barneys New York among her clients, says, "Make sure you have a cotton swab ready to remove it immediately before the stain has dried on the skin." If some minor reworking is needed, Kristine Cruz, senior makeup artist at Antonio Prieto Salon in NYC, will reapply lip balm over the stain to help re-distribute the color—a technique she's found makes even fussy stains more pliable. "I also use concealer to clean up excess color around the lip line," she says.
For makeup artist Lindsey Williams, who works with magazines such as Marie Claire and Fitness, errant color can be lifted with a dab of almond oil. "Or, you can use [the oil] to break up the color around the edges of the lip if the stain has become too concentrated," she says.
Maintain Hydration
Lip stains and dry lips are like oil and vinegar; they do not mix. This fact alone makes stains' worst property even more ironic: Historically, stain formulas tend to dry out pouts and make them appear wilted. "Lips stains can make the lips look dry even when they're hydrated," laments Cruz. While Cruz and Williams point to stain formulas that contain hydrating ingredients such as oils, Cruz relays that even with added moisture, after several hours of wear, the hydrating effect dissipates, making the stain more visible on natural lip cracks. "I like to tackle this problem by reapplying a light balm to moisturize and move or blend the leftover stain," she says. When reapplying, have your client rub her lips together or use your finger pad to redistribute the product.
When you reach for a moisturizing balm to revitalize the stain, Williams suggests steering clear of balms in the form of sticks; "they have more waxes in them and aren't as hydrating because they simply act as a coating on the lips," she says.
Stain Removal
Manufacturers formulate stains to grab on tight; quality stains truly do stain mouths, making removal tough. Dditorial and bridal makeup artist Cari Duprey Duprey points to waterproof eye makeup remover as one mode of removal, adding that "oil-based formulas will help break up the pigment" and allow you to wipe away color in an instant. "The best remover I've found so far is Danessa Myricks Beauty Essential Eye & Lip Makeup Remover. It has taken out the most resistant of stains!" claims Williams.
[Photo: Andreea Angelescu]