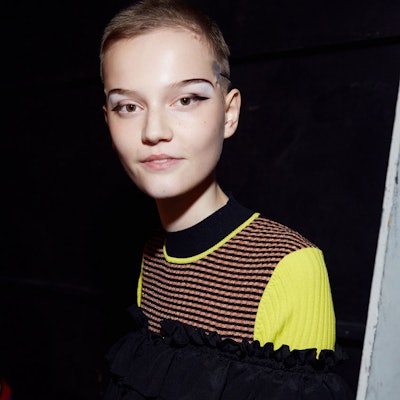 Sometimes fashion can make a real statement. At Opening Ceremony, the coming election and the spectacle of pageantry are motivators for the looks behind the show. Bumble and Bumble Lead Stylist Holli Smith creates two styles to speak to this idea. For those with short hair, and for some with long, hair is left down. Smith applies Bumble and Bumble Thickening Spray, so that locks are "healthy-looking with a little bit of crunch," she comments. To create the sectioned-design alternative, which is meant to evoke "anti-pageant hair," Smith sections out a strong part and pulls hair straight back using Bumble and Bumble Thickening Spray and Bumble and Bumble Surf Spray. "The Surf Spray is in there to give it some control," she explains. Smith fastens hair at the bottom into what she describes as a "man bun," or a "small bun that's kind of sporty" —it is not meant to be too pretty. The edges are left out, "giving the feeling of a short haircut," she explains. The design has a tough, harder element, while the softer pieces in the front prevent it from being "too severe." To complete the look, Smith sprays Bumble and Bumble Does It All Hairspray throughout.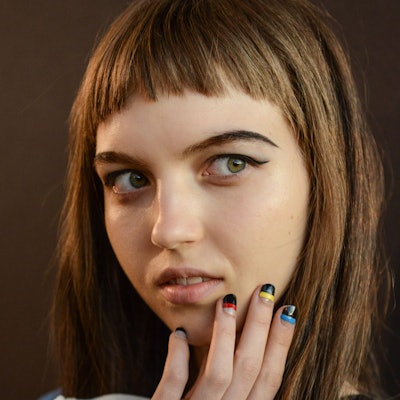 The makeup look references pageantry in a nuanced, tongue-in-cheek way. Maybelline New York Makeup Lead Yadim describes the look as "stripped-down, deconstructed stage makeup." On certain girls, especially those who are younger-looking and certainly don't need it, Yadim adds cosmetic face tape "as a play on what beauty used to be to us," he remarks. "It's a testament to the old school of makeup. It's a bit of irony." He pencils in eyebrows starting from the end and going outward—again, as a deconstructed remnant of old school pageant makeup. Unlike a Miss America's shellacked face, there is no color to the look; it's monotone. Yadim applies Maybelline Loaded Bolds Wickedly White Lipstick using a brush under the brow bone to give a balletic finish to cheeks. He dabs Maybelline FaceStudio Master Strobing Stick to cheekbones, the cupids bow and in between the brow, as well as Maybelline Baby Lips on the cheekbones and lips. For eyes, Yadim blends black lipstick and Maybelline Lip Studio Shine Shot Gloss on the lid, to give a little bit of a greasy eye. He drafts a black cat-eye using Maybelline Eye Studio Lasting Drama Gel Eyeliner. "It's all kind of futuristic and hyper-real," he explains of the final look.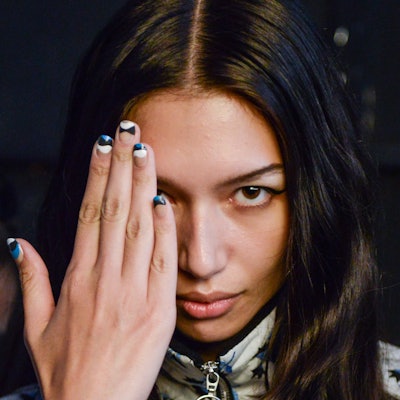 Two nail looks go with the collection, a wavy design and a striped design, courtesy of China Glaze Nail Lead Naomi Yasuda. Rather than find inspiration in the idea of pageantry, Yasuda instead turns to the patterns found in the collection. For the striped look, she applies base coat to the nail and then paints a thick black line ¾ of the way up the nail, leaving the bottom ¼ bare. Then, a horizontal stripe of primary color—either China Glaze Happy Go Lucky, DJ Blue My Mind and Hey Sailor—or grey Change Your Attitude is added where the black meets the negative space.
Lest you think she polished these aforementioned stripes, think again: Yasuda swears by Scotch tape as her mode to clean lines. "It makes it so much easier this way," she says. "You paint the Scotch tape [with your preferred polish], let it dry, cut it into small, small lines, and then press," she instructs. To smooth the ridges the tape may create, she floats a coat of top coat over top.
For the wavy nail art design, Yasuda uses DJ Blue My Mind, Change Your Altitude, White on White and Concrete Catwalk. Like the striped design, she leaves negative space at the bottom of the nail. Then, "pick any color from the four colors to fill that space," she says, pointing to the thick S-shaped line she swishes across the nail. For each nail, the wave is random; there's no uniformity to the curves or even the distance down the nail. She lets the first wave dry and then overlaps a second color a little above the first one in another wave pattern—but it doesn't necessarily parallel the wave shape underneath. Then, a third wave in a different color overlaps right near the nail's free edge—again, randomly placed and swooped from nail to nail. When all is dry, Yasuda blends the design with a layer of top coat.