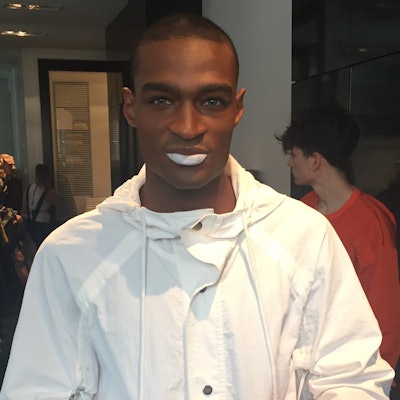 At Soho's impossibly hip VFILES boutique, makeup artist Dana Arcidy created several different makeup looks for Feng Chen Wang's SS17 presentation at New York Fashion Week: Men's. Feng Chen Wang, the eponymous line of its Chinese-born, London-based designer, is a menswear line that puts equal emphasis on its clothing's cool factor and narrative ability.
"This collection is about connection," says Arcidy. "You can see it in the clothing itself — some of the pieces have open areas connected to the main article of clothing by threads. And Fengchen is so imaginative, such a storyteller — she is fascinated by the way people connect to each other in our modern, digital world. So we wanted something that would tell the same story with makeup."
The two collaborated to create several different looks. They decided that while some models would have simple, clean makeup, others would have certain body parts emphasized in white - a color that was seen a lot in this collection. "Each of the parts we chose had to do with connection or the senses," Arcidy explains. "Hands represent touch, lips represent kissing, tasting, or even just speaking, and ears, of course, represent how we connect by listening."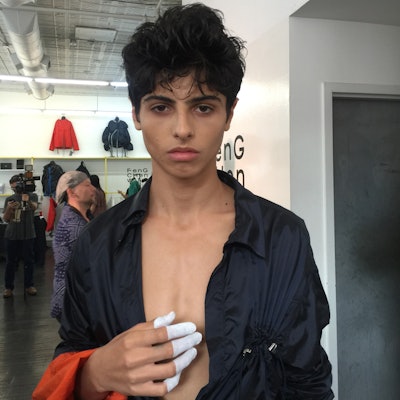 Get the Look:
Using Morphe Cosmetics, Arcidy and her team applied foundation with a light touch. Powder was skipped to allow the foundation to remain dewy, and concealer was applied only as necessary. "The face had to be clean and natural to allow the details to be the star," says Arcidy. For those details, her team used a white cream from Morphe's Corrector Wheel.
For the ears, white was brought a third of the way down, and continued on the front and back of the ear to give the illusion that the ear had been dipped in white. For the hands, white covered the fingers from the fingertips to the second knuckle, nailbeds included. In both cases, the line between where the white ended and the unpainted skin started was sharpened with a Q-tip dipped in makeup remover to add to the drama. One model had a lip detail, where his lower lip was painted white. At least half of the models were kept natural.
"What's interesting is that you might not even notice the white makeup at first. And when you do, maybe you'll turn to the stranger next to you and say, 'Hey, why are that model's ears white?'" Arcidy says with a smile. "And then you'll be connecting with someone as you try to figure it out."