The "I woke up like this" look is sexy without trying, which makes it the ultimate beauty dream. In reality, waking up with perfectly slept-in hair and makeup doesn't just happen; it takes a whole team to mimic that illusion of effortlessness. At the Pyer Moss show, Eufora Hair Lead Philip Carreon describes the ready-to-go style as "a just-rolled-out-of-bed look; but it's kind of like you had a good look last night," he says with a smile. "It's a little more pillow hair in the back and definition in the front. It's sexy and purposely disheveled."
Carreon begins creating the look by adding Eufora Hero Molding Paste, which is matte-finished, for "a little bit of pointiness" at the ends. This is followed by Eufora Hero For Men Defining Wax, which creates static, gives lift to the back and allows for definition and chunkiness to the hair without looking like there's any product in it. Carreon backcombs the hair using his fingers, and separates pieces that intentionally fall over the face for an added sex appeal. Next, Carreon adds in Eufora Powder Lift Weightless Volume and Texture, which is key to creating the matte, slept-in look. He mists Eufora Elevate Finishing Spray over hair, to help define curls. To keep hair from looking too stiff, Carreon finishes the style by creating limp waves with a large barrel curling iron.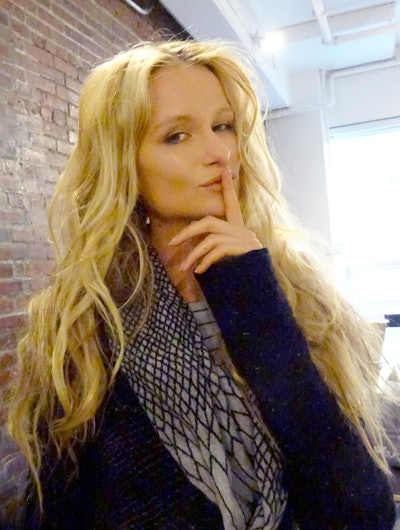 Pyer Moss's muse is not just rocking last night's hair; she also slept in last night's makeup—but she still manages to look great in the morning. "Think about makeup the next day or the morning after; that runny mascara and liner, the skin is semi-matte with a natural glow and the lip is muted," Makeup Lead Latisha Nicole explains. She uses AJ Crimson Dual Skin Crème Foundation and No Shade Lipstick, as well as black eyeliner and mascara to get the "grungy" look.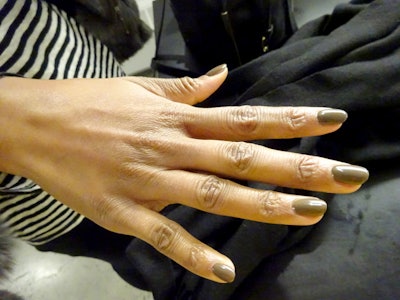 Nails are "natural, muted and effortless," explains Lead Nail Artist Jessica Tong. This translates to: neutral, flesh-tone nails. After buffing nails and applying cuticle oil, Tong paints the models' natural nails with MiniLuxe Polish. Since a flesh-tone shade is different for everyone, the nail team has made sure they have the full line with them to account for the diverse cast.
[Images courtesy of Emilie Branch, Eufora]