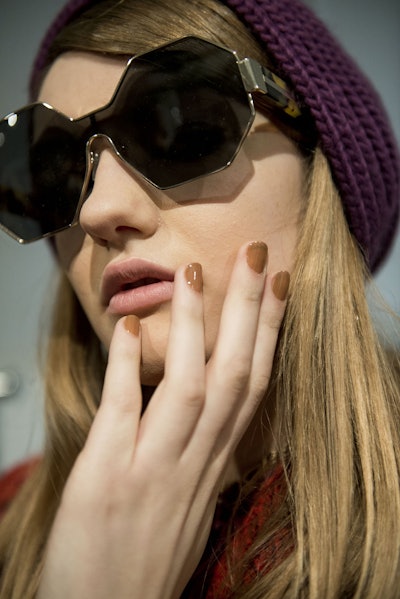 Fashion designer Karen Walker is an amazing storyteller, and this season she weaves the backstory of American artist Berenice Abbott, who began her career as assistant to photographer Man Ray, into her collection. Abbott often posed for Man Ray's photos, becoming somewhat of his muse. KIKI MILANO Lead Makeup Artist Benjamin Puckey dubs his makeup design "a Modern Man Ray," drawing his inspiration from Man Ray's shots of Abbott in the '20s. "In the pictures, she always had a strong brow, matte skin and a Kohl-rimmed eye," explains Puckey, "We are creating a modern, wearable version of her look."
Puckey starts by applying KIKO MILANO Liquid Skin Second Skin Foundation and Matte Fusion Pressed Powder to create a natural-looking matte base on the face. "The foundation is thick, very high coverage, but still looks like skin," Puckey relays. He sweeps a bit of KIKO MILANO Flawless Fusion Bronzer Powder on the cheekbones, both edges of the forehead, the jawline and the sides of the nose. Using KIKO MILANO Eyebrow Sculpt Automatic Pencil, Puckey draws strong, dark brows that deliver drama without feeling retro. He then turns his attention toward the eyes, lining the entire rim with KIKO MILANO Intense Color Long Lasting Eyeliner in Black and using the sponge at the base of the pencil to blend out.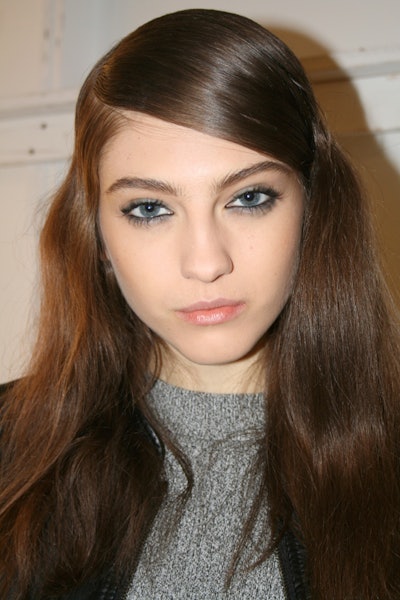 For the hair, Bumble and Bumble Hair Lead Laurent Philippon expresses excitement over the style icon's androgynous hairstyle. "Berenice was the first 'boyish girl.' She wore that graphic fringe and a very short boyish haircut," he explains. Rather than do a mimicry of this masculine aesthetic, Philippon trades the fringe for a side-swept bang and keeps the lengths long and fluffy. "We're creating a very graphic part in the front that swooshes down in the front," he says, adding, "We're applying Bumble and Bumble Thickening Hairspray at the crown and putting a do-rag on it to set it down to give it that '20s vibe." He works the ends with Bumble and Bumble Surf Spray or Hairdresser's Invisible Oil Primer depending on the model's texture. "We don't want the ends to look like a hairdresser was there," laughs Philippon, "We're letting them do their own thing."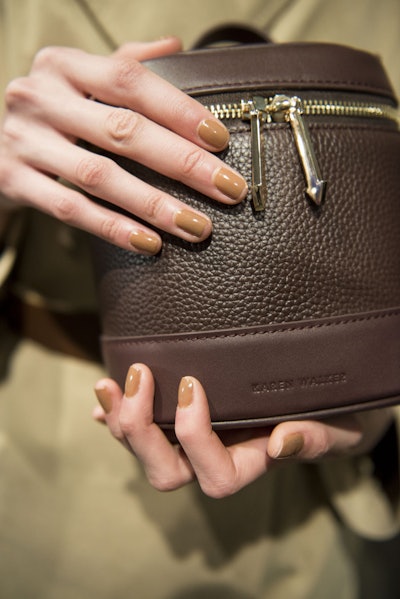 For the nails, JINsoon Nail Lead Jin Soon Choi opts for a cool toffee beige, JINsoon Dulcet, to complement the collection's color palette. "When you see Karen's collection, you'll see a lot of khaki going on, very much like Abbott's personal style—no fuss, cool and functional with a chic twist," says Choi. "This color is classic, vintage yet still modern."