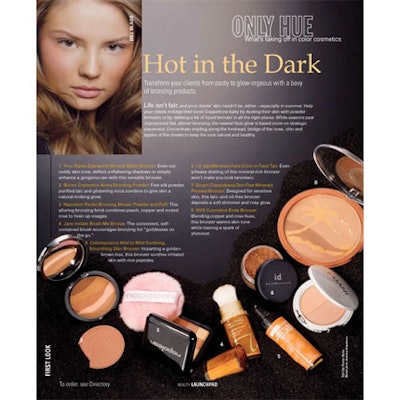 Transform your clients from pasty to glow-orgeous with a bevy of bronzing products.
Life isn't fair, and your clients' skin needn't be, either—especially in summer.
Help your clients indulge their inner Coppertone baby by dusting their skin with powder bronzers or by dabbing a bit of liquid bronzer in all the right places.
While seasons past championed flat, all-over bronzing, the newest faux glow is based more on strategic placement. Concentrate shading along the forehead, bridge of the nose, chin and apples of the cheeks to keep the look natural and healthy.
Your Name Zebraprint Mineral Matte Bronzer: Even out ruddy skin tone, deflect unflattering shadows or simply enhance a gorgeous tan with this versatile bronzer.
Bloom Cosmetics Aloha Bronzing Powder: Fine silk powder, purified talc and glistening mica combine to give skin a natural-looking glow.
Napoleon Perdis Bronzing Mosaic Powder and Puff: This alluring bronzing brick combines peach, copper and muted rose to liven up visages.
Jane Iredale Brush-Me Bronze: The convenient, self-contained brush encourages bronzing for "goddesses on the go."
Colorescience Wild to Mild Soothing, Smoothing Skin Bronzer: Imparting a golden-brown hue, this bronzer soothes irritated skin with rice peptides.
i.d. bareMinerals Face Color in Faux Tan: Even a heavy dusting of this mineral-rich bronzer won't make you look tanorexic.
Emani Copacabana Duo Flex Minerals Pressed Bronzer: Designed for sensitive skin, this talc- and oil-free bronzer deposits a soft shimmer and rosy glow.
NYX Cosmetics Body Bronzer: Blending copper and rose hues, this bronzer warms skin tone while leaving a spark of shimmer.