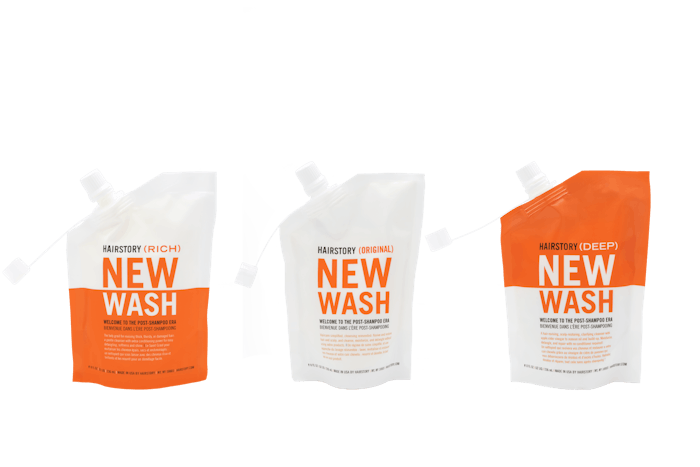 Courtesy of Hairstory
April 22 of each year marks the world's collective celebration of Earth Day and the entire month of April is touted as Earth Month, a time for striving to support the planet through what we purchase and do.
Now more than ever, it is necessary to choose products that are clean and sustainable and Hairstory is exactly that. 
Hairstory is defining a new category in hair care that doesn't rely on harsh foams and foaming detergents, offering a new way to wash and condition your hair with a single-step: New Wash cleansing cream.
Hairstory's New Wash cleansing cream allows users to have their best hair day every day by making hair soft and manageable, allowing more time between washes. The product also promotes natural texture and reduces frizz. 
Hairstory chooses the least toxic ingredients available to ensure that products are healthy for our bodies and the environment. Considering the term 'clean beauty' as aspirational, not absolute, Hairstory constantly strives to improve products and offer the very best in hair care. Only 100% natural fragrances composed of natural, essential oils are used in New Wash and Hairstory styling products. Additionally, each product goes beyond the legal requirements and lists every ingredient. New Wash is formulated with a combination of natural essential oils and gentle cleansers.
The key ingredients include: 
Aloe Vera: an essential ingredient to all New Wash versions, Aloe balances the pH of the scalp, cleanses scalp pores and is an anti-inflammatory to soothe a host of scalp conditions.
Sunflower Seed Oil: a cleansing agent that contains essential fatty acids and high levels of Vitamin E to help remove soil and buildup from hair
Jojoba Seed Oil: loosens and dissolves hardened sebum around the hair follicle that can cause hair loss; removes buildup from styling products; conditions, moisturizes, and brings out natural brilliance
Evening Primrose Oil: removes oil and buildup while also nourishing hair
Hairstory offers three varieties of New Wash: original, rich and deep. Rich works best for hair that craves moisture with the addition of a plant-based horsetail extract, while deep works best for hair that craves a deeper clean with the addition of apple cider vinegar. 
While Hairstory recognizes that business will always have an environmental impact, the goal is to minimize the footprint across all aspects of operations – from products to packaging to business processes. The impact of switching to pouches of New Wash cuts the carbon footprint of packaging by 85%.
You can get New Wash as well as Hairstory's entire range of sustainable products on their website www.hairstory.com.