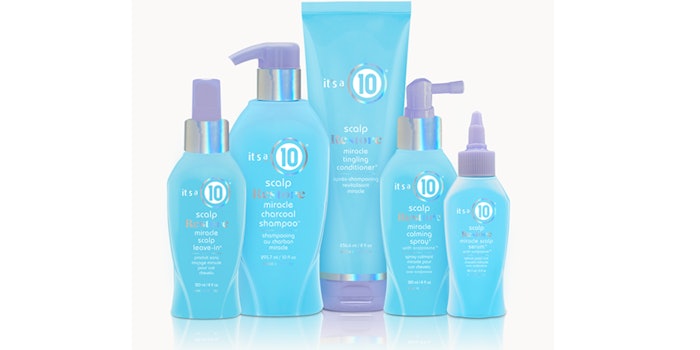 Courtesy of It's A 10 Haircare
  The five-piece collection includes:
Scalp Restore Miracle Scalp Leave-In - A lightweight formula that leaves hair lustrous and full of volume. 
Scalp Restore Miracle Scalp Serum - A serum that rebalances oily skin and reduces discomfort. 
Scalp Restore Miracle Calming Spray- Helps calm irritation while fortifying the scalp and hair with a custom blend of amino acids and essential extracts. 
Scalp Restore Miracle Charcoal Shampoo- Enriched with kaolin clay, this shampoo gently lifts away irritants and exfoliates. 
Scalp Restore Miracle Tingling Conditioner- Moisturizers in this conditioner work directly on the hair shaft to avoid damage and promote soft, manageable strands.   
Active Ingredient Complexes:  
Energizing Complex: Cooling essential oils soothe and relax the scalp, while nourishing strands to keep hair healthy and curls moisturized.
Seascalp: This marine based ingredient strengthens skin function and removes excess oils from the scalp resulting in nourished and luscious locks .
Scalposine: Promotes a healthy scalp by reducing sebum and itching to purify and refresh .