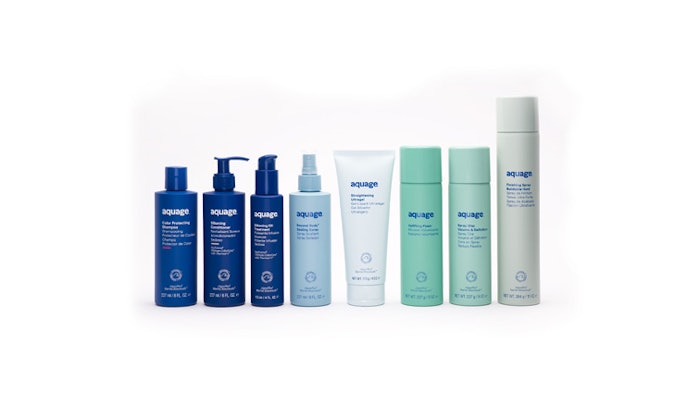 Courtesy of Aquage
Aquage has rebranded with new sustainable packaging.
This rebrand marks the beginning of Aquage's reimagined mission to protect the ocean alongside a new image and eco-friendly redesign.
The new packaging is made from ocean-bound material (repurposed and recycled ocean plastic).
Aquage is also tightening its product portfolio by making it easier for professionals and consumers alike to navigate the product landscape.
Additionally, the brand will be launching a Dry Shampoo, great for saving water, and a Blonde Care collection.
"Aquage's rebrand is a way for us to get back to the brand's core of high-performance products fit for the professional. A key part of the performance is AlgaePlex, a resource we need to preserve and protect," says chief marketing officer Mary Burns. "This mission is one of our driving focuses and a key part of our product's formulas, so reducing our oceanic footprint was a seamless next step as we continue on this path towards sustainability. We are happy to continue this conservation journey alongside our partners at PlasticBank, while still delivering premium formulas the brand is known for." 
The product line with updated packaging is now available at Cosmoprof and Ulta.