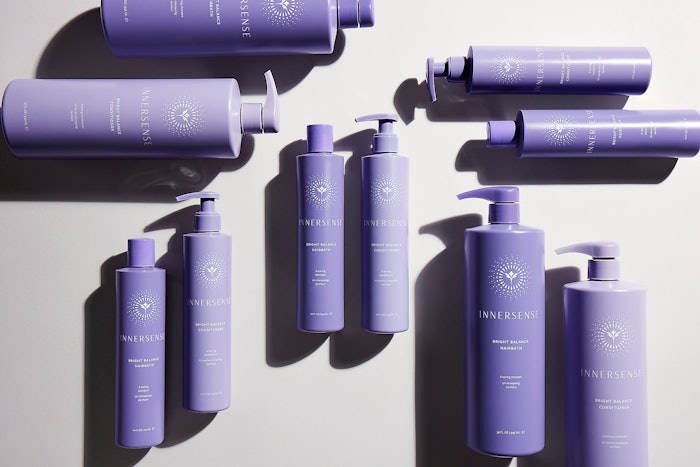 Courtesy of Innersense Organic Beauty
Innersense Organic Beauty has expanded its range with two new products: Bright Balance Hairbath and Bright Balance Conditioner.
This collection is an alternative to traditional purple toning shampoos and conditioners on the market.
Bright Balance Hairbath cleanses hair without stripping natural oils, while toning and brightening the hair. Bright Balance Conditioner works to deeply hydrate and moisturize strands. 
Key ingredients in the Bright Balance Hairbath include:
Monoi Oil: extracted from the petals of the Tahitian Gardenia, this Vitamin-E rich oil moisturizes and helps shield hair from environmental damage.
Apple Extract: a natural nourisher, this humectant helps attract and retain moisture for softer and smoother hair.
Witch Hazel: the bark and leaves of this ancient medicinal plant include anti-inflammatory properties that gently cleanse hair and remove any color-dulling residue. 
Organic Rice Syrup: known for its concentration of fortifying amino acids, this natural extract promotes hair elasticity.
Key Ingredients in the Bright Balance Conditioner include:
Organic Rice Bran Oil: extracted from the rice kernel's outer shell, this highly emollient, antioxidant oil bolsters color longevity and overall hair health.
Organic Pumpkin Seed Oil: a unique blend of minerals, vitamins and fatty acids to aid with hair thickness, softness and resilience.
Organic Coconut Oil: full of antioxidants to promote hair longevity while moisturizing strands deeply.
Avocado Oil: high in fat, minerals and antioxidants to help repair dry and damaged hair.
Greg Starkman, founder of Innersense Organic Beauty said, "We wanted to formulate a collection specifically to nourish and tone gray, blonde and bleached hair without silicones or other common cosmetic ingredients that build up over time and compromise overall hair health, we are always looking for cleaner, healthier solutions using Certified Organic Ingredients to keep hair healthy and balanced."