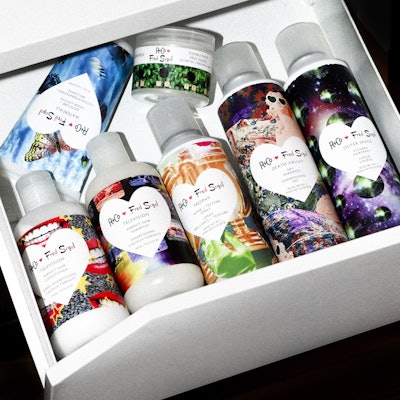 Rule-bending hair collective R+Co announced a new collaboration with Los Angeles fashion destination Fred Segal. The R+Co x Fred Segal Collection, curated by R+Co's newest collective member and Los Angeles native Ashley Streicher, boasts seven of R+Co's bestselling products in colorful, collage-style pop art designs. The collection's imaginative packaging illustrates a marriage of the two brands with rock n roll, unexpected beauty, dream states and surrealist Los Angeles landscapes. Available now, this collaboration will debut at Fred Segal stores globally and online at FredSegal.com and RandCo.com. 
R+Co's cutting-edge hair care and styling products are known to evoke a feeling, place, style or attitude through performance, packaging and fragrance. With the help of Fred Segal's playful designs and Streicher's selection of LA favorites, the R+Co x Fred Segal Collection successfully embodies a mix of R+Co's experimentation, artistry and passion with Fred Segal's laid-back luxe aesthetic.
Ashley Streicher's R+Co x Fred Segal collection includes:
CONTROL Flexible Paste – A nutrient rich hair paste that provides a semi-matte finish with a natural feel, holds style in place but never feels stiff.
TELEVISION Perfect Hair Shampoo & Conditioner – This pair brings body, shine, strengthening, softening and smoothing to strands. Juniper Berry Extract supplies weightless moisture while detoxifying hair follicles and soaking up impurities on the hair and scalp.
WATERFALL Moisture + Shine Lotion – A light, yet intensely hydrating lotion designed to make fine to medium hair shiny, soft and manageable. Can be used on wet or dry hair to tame fly aways or moisturize ends.
OUTER SPACE Flexible Hairspray – A working spray that also has memory. Set your hair in different looks, and keep changing all day long without any buildup. Works well with any texture, style and hair type.
DEATH VALLEY Dry Shampoo – The quickest way to boost your hair with volume and body. This cult-favorite dry shampoo is a must-have for easy, big, Bardot hair.
TROPHY Shine & Texture Spray – Adds the right amount of texture, volume, moisture and shine without weighing hair down to achieve a lived-in, naturally radiant look.
"R+Co is a brand that has collaboration as part of its DNA. It is based around the concept that a collective approach to product creation is what results in the highest level of innovation," said Dainel Langer, president of R+Co. "That collaborative mentality isn't exclusive to hairstylists. We have always had a broad team of artists, designers and retailers that have worked with us to create experiences and moments that are special and unique. For this collab we wanted to celebrate the heritage and fashion mindset – and mutual love – of Fred Segal. As part of that, R+Co Collective member, celebrity stylist Ashley Streicher, chose a collection of R+Co products that was reflective of both her and Fred Segal's California aesthetic."
CEO of Fred Segal, Allison Samek, added, "Fred Segal has always been about expression; expression not just through the clothes we wear, but through our hair and what it says about who we are.  For years, people have come to Fred Segal to both shop and be styled by people and brands who inspire them.  We are honored to be able to do this collaboration with R+Co – a brand that inspires not just Fred Segal, but everyone to express themselves freely."
R+Co products are always formulated without parabens, sulfates, mineral oil, petrolatum. They're vegan, cruelty-free and gluten-free.
[Images courtesy of R+Co]