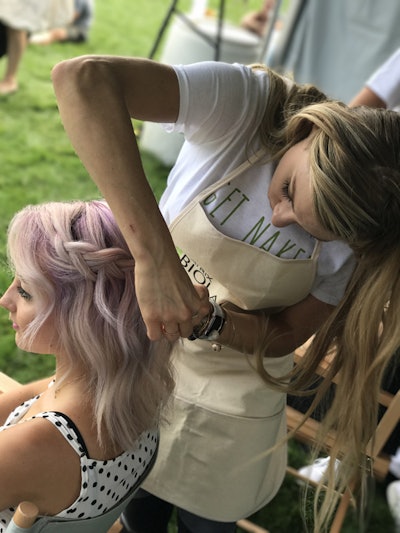 Last Saturday, Biolage introduced the new R.A.W. Styling products to consumers at the Wanderlust 108 Festival in Denver, CO in partnership with five local influencers! The Wanderlust 108 Festival is a "mindful triathlon" bringing three events together: a 5K run (or walk), an outdoor yoga experience, and a guided meditation.  Festival goers enjoyed DJ beats on the main stage, participated in lawn activities like hooping and acroyoga, and were introduced to the Biolage R.A.W. Styling products launching in August in the form of a braid bar!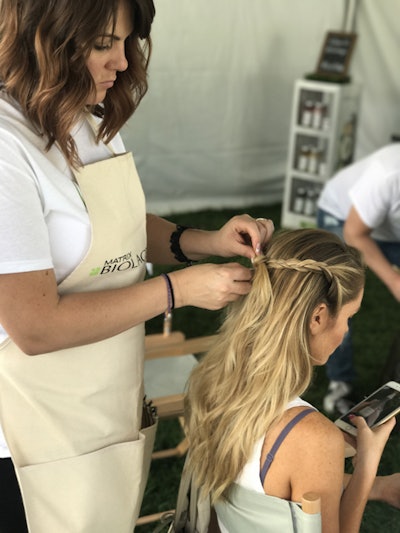 Wanderlust was the perfect opportunity to connect with the Biolage R.A.W. consumer who is someone that loves to live a healthy lifestyle and take care of their body inside and out.  The new Biolage R.A.W. line of stylers consists of five products that provide a "naked touch" with high performance styling results that are seen but not felt while at the same time retain between 98-99% of their molecular structure.
Yogis and influencers stopped by the Biolage R.A.W. braid bar to complete their looks by Nick Stenson, Breck Csicsai, Bobbi Springer, Shaylin Hall, Rosalia Paz, and Kayla Howell with Biolage R.A.W. Smoothing Milk, Curl Defining Styling Butter, Frizz Control Styling Spray, Texturizing Styling Spray, and Bodifying Styling Jelly.  Yogis and influencers were also gifted their favorite products.
[Images courtesy of Matrix]