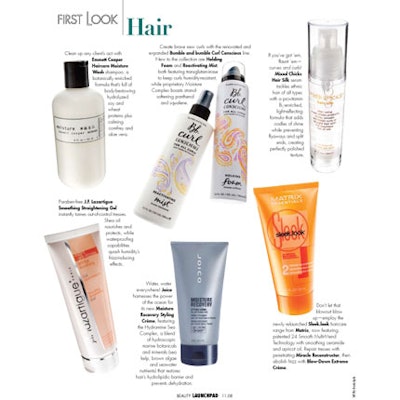 Clean up any client's act with Emmett Cooper Haircare Moisture Wash shampoo, a botanically enriched formula that's full of body-bestowing hydrolyzed soy and wheat proteins plus calming comfrey and aloe vera.
Create brave new curls with the renovated and expanded Bumble and Bumble Curl Conscious line. New to the collection are Holding Foam and Reactivating Mist, both featuring transglutaminase to keep curls humidity-resistant, while proprietary Moisture Complex boasts strand-softening panthenol and squalene.
Paraben-Free J.F. Lazartigue Smoothing Straightening Gel instantly tames out-of-control tresses. Shea oil nourishes and protects, while waterproofing capabilities quash humidity's frizz-inducing effects.
If you've got 'em, flaunt 'em—curves and curls! Mixed Chicks Hair Silk serum tackles ethnic hair of all types with a provitamin B5-enriched, light-reflecting formula that adds oodles of shine while preventing flyaways and split ends, creating perfectly polished texture.
Don't let that blowout blow up—employ the newly relaunched Sleek.look haircare range from Matrix, now featuring patented smooth Multi-Mend technology with smoothing ceramide and apricot oil. Repair tresses with penetrating Miracle Reconstructor, then abolish frizz with Blow-Down Extreme Crème.
Water, water everywhere! Joico harnesses the power of the ocean for its new Moisture Recovery Styling Crème, featuring the Hydramine Sea Complex, a blend of hydroscopic marine botanicals and minerals (sea kelp, brown algae and seawater nutrients) that restores hair's hydrolipidic barrier and prevents dehydration.