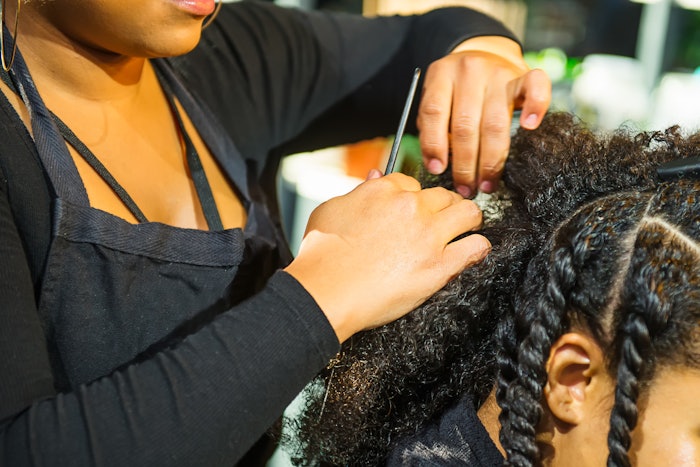 The fifth annual Texture vs. Race Summit is challenging the beauty industry's long-standing racial and textural divide by presenting a first-of-its-kind inclusive hair show.
Slated for December 10-12, 2023 in Baltimore, Maryland, this year's summit will offer beauty professionals a texturally inclusive selection of independent and branded education while curating a safer space to navigate the discussion of diversity and actionable inclusion. Presented by NAHA-nominated educator and industry advocate Keya Neal, the Texture vs. Race Summit teaches professional stylists the technical skills and cultural competence needed to serve a diverse clientele. Attendees can expect hands-on classes, on-stage presentations, business and wellness development, breakout sessions, mastermind sessions with Keya Neal and round-robin demonstrations.
"My goal is for attendees to view hair through the lens of art and science," says Keya Neal, Texture vs. Race founder and host. "By creating an inclusive-minded hair show and education offering, stylists will have the freedom to choose products and education based on performance and need, rather than being confined by societal expectations of 'black hair' or 'white hair' categorization. This shift empowers stylists to become more capable beauty professionals, align with brands that share their values and overall strengthens the beauty industry."
This year's summit features an expanded format with even more educational opportunities to help stylists develop their business acumen and a texturally inclusive skillset. Day 1 (December 10) opens with a brand-inclusive showroom floor where partnered brands focus on creating community, providing education and building relations, without the pressure of sales. Attendees will have the chance to learn more about each brand's products, how they perform and align themselves with companies that share similar values. The event of the afternoon, the Artist Exhibition, will treat attendees to high-energy stage demonstrations, hair presentations and inclusion discussion sessions hosted by Keya Neal.
Days 2 and 3 (December 11 and 12, respectively) will focus on texturally-inclusive education, to include hands-on education, breakout sessions, independent education sessions, branded education, stage sessions, their signature round-robin "Curl Clinic" and showroom floor education.
Featuring an expansive portfolio of education, this year's Texture vs. Race Summit aims to empower stylists and strengthen the beauty industry through a mix of independent and branded education. Classes focus on technical skill set, business development, product knowledge and wellness hosted by industry powerhouse educators J. Ladner, Elizabeth Faye, Carla Jones, Nina Tulio, Cassandra Platinum, Michelin Barber, Brenda Amaral, Monae Everett, Hunter Donia, the Texture vs. Race Collaborative and more.
Attendees can expect the following at this year's Texture vs. Race Summit:
Signature Hands-On Education: Attendees will receive comprehensive and hands-on education covering cutting, coloring and styling techniques for all hair textures, including straight, wavy, curly and coily hair types.
Round-Robin "Hydro-Discover Method" Curl Clinic: Collaborative Coaches walk attendees through the clinic floor to assess and observe a spectrum of texture on live models. Topics covered include dry consultation, texture analysis, wet consultation/analysis, detox, detangling and product usage.
Artist Exhibition: The high-energy event opening features education sessions, hair presentations and more to set the tone of the summit.
Stage Presentations: Feature rotations of technical education, product education or panels hosted by sponsors and Texture vs. Race. Stage rotations will take place on Day 2 and 3 during general education sessions.
Showroom Floor: A brand-inclusive showroom floor for attendees to learn about product performance, get educated by brands through demos and conversations and align with inclusive-minded brands.
Breakout Classes: Intimate education sessions from a myriad of curated product, brand and independent education.
Holiday Social Event: Monday afternoon festivities for attendees to connect, unwind and enjoy light bites.
Diamond Ticket Mastermind Sessions: Diamond-level tickets come with access to a Morning Mastermind with Keya Neal and friends for small group workshops and consultation.
Morning Mastermind DEI Session with Keya Neal: A deep dive into personal development, leadership, salon ownership and allyship. This session will include a DEI presentation by Keya for leadership development, followed by open discussion and interactive activities. (Dec 10, 10 a.m. - 1 p.m.)
A standardized, texture-inclusive curriculum is crucial for all beauty professionals for multiple reasons. Firstly, the average beauty professional is often not adequately trained to work with hair textures beyond straight and wavy, which limits the range of clients they can effectively serve. This lack of education perpetuates the misconception that curly and natural hair is inherently 'difficult' when, in reality, it simply reflects a knowledge deficit. On the other hand, Black stylists are also affected by the absence of standardized texture education, while simultaneously being assumed to possess expertise in working with highly textured hair. By combining the lack of texture education with the historical exclusion of Black stylists from straight and wavy curriculum, it becomes evident that there is both an education and equity problem. Our goal is to level the playing field to make ALL stylists competitive by providing the tools and knowledge they need to confidently cut, color, style and care for all types and textures of hair.
Registration for the Texture vs. Race Summit is now open at www.TexturevsRace.com with early bird pricing on tickets through June 30, 2023.
To learn more about Texture vs. Race, follow Texture vs Race (@texturevsrace) and the founder Keya Neal (@KeyaArtistically) on Instagram.