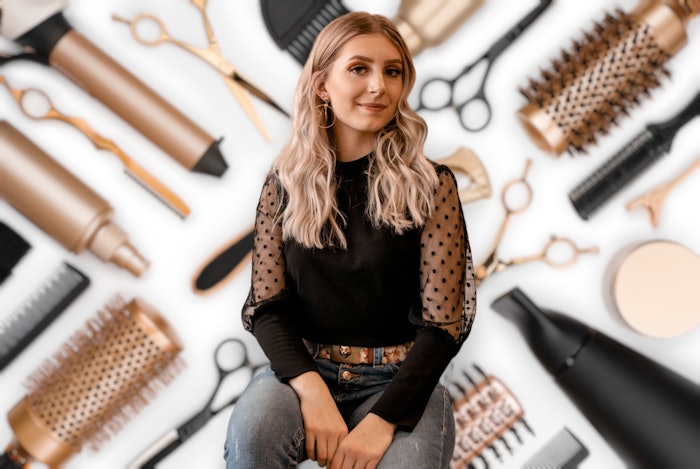 Courtesy of @beauty_by_amandaa
Over the course of the month, we will be spotlighting the winners of
Beauty Launchpad
's 30 Under 30 for 2023, sponsored by Denman Pro.
Today, you will get to know Amanda Hyson (@beauty_by_amandaa). She is a 22-year-old stylist at Bella Moda Unisex Salon in Rensselaer, New York. 
Q&A: 
Beauty Launchpad (BLP): What is a fun fact about you? 
Amanda Hyson (AH): I love the outdoors and nature – from skiing, to fishing, hiking, biking and swimming. When I am feeling burnt out, going outside is what makes me appreciate this thing we call life. It rejuvenates me and gets me focused! I am also a cat mom to two kitties. 
BLP: What is your proudest accomplishment?
AH: My proudest accomplishment would be getting recognized within this industry alongside some of the best hairstylists. In this industry you never stop learning. From techniques to placements to product innovation, the hair industry is always evolving, and it's up to you to stick with it and adapt. Education has been a huge help within my career, and I call myself a forever student. You need to invest in yourself, confidently knowing your skills and client experience will pay off.
BLP: What is your current favorite hairstyle trend?
AH: Volume and face-framing layers! The 90s are definitely back! Color wise, I've been loving the embracement of warmth and the natural look. 
BLP: What is a hair tip you have for your fellow stylists? 
AH: Invest in your education, and find a mentor! This has helped me tremendously in my career and has always led me to accomplish great hair and run a healthy business. Quality over quantity always. If you deliver great results customers will be back!
BLP: What do you love about your work?
AH: What I love about my work is the care about integrity. I am always looking to use the best of the best products and color on my clients. I am a color-focused stylist, and integrity will always come first! I love that my clients get longevity with their color. Everyone is different. I have clients that see me every 12 weeks for their traditional highlight to the root, and I have some that can go a full year in between their lived-in dimensional color. 
BLP: What motivates you about the industry you are in?
AH: Education and seeing other hair stylists I envy hit their own type of success! As a baby stylist, I studied my favorite hair stylists – what worked for them to get clients from social media, how they developed a client experience, policies they had in place and the techniques they used! Once COVID happened, many of the stylists I envied started teaching in-person education and that is when my career changed! My first in-person class was taught by Adina Pignatare and Ashley Smith! The way they educated just clicked with me. Something Adina said to me, that I live by to this day, is to get uncomfortable because that's when the growth happens! She was right. I got uncomfortable and went for things I never thought would be possible. Anything is possible – You just need to put the work in to get there. Network and ask questions. What's the worst that could happen? And of course, have a support system. I thank my fiancé, mom and friends for always supporting my goals and dreams.
BLP: What is a professional goal you have for yourself?
AH: A professional goal I have for myself is to make an impact on other stylists and fellow students entering this industry. I hope to help in ways others could not. I'm not sure if I see myself as an educator or coach/mentor, but a part of me feels I could be both/have an interest in both. I want to be someone who makes a difference within this industry – someone who can show that hair dressing is a well rounded career! It's community over competition. I always thought hairdressing was a side job and not a career path. Little did I know you can absolutely have a healthy and wealthy career within this industry – You just need to focus and put the work in. The possibilities within this career are endless! I am super thankful to my mentor and now friend Adina. She has shown me the ropes and opportunities available within the hair industry.
You can see the full list of this year's 30 Under 30 by reading Beauty Launchpad's May/June 2023 digital magazine.