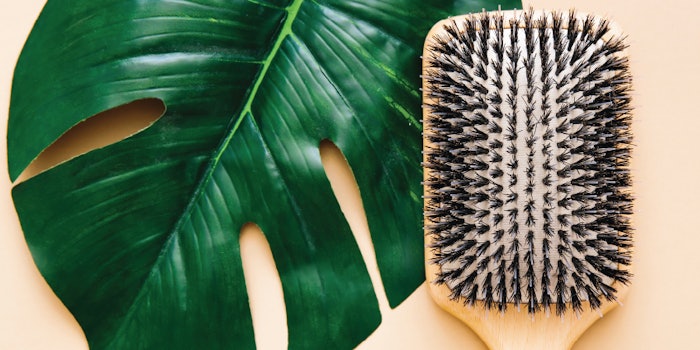 April 22 is Earth Day, a time to demonstrate support for environmental protection.
While we may take one day to celebrate and honor our planet, there's countless tiny steps stylists can take on a daily basis to keep Earth green. Here leaders in the beauty industry discuss the initiatives they have taken on to be more environmentally friendly.
If you think about what's left over at the end of a hair appointment, you can begin to really understand that a lot of waste is created for the planet. Unfortunately, the majority of beauty waste isn't accepted by traditional recycling methods, as they are contaminated and require a more sustainable solution.
In partnership with our member salons, we are currently diverting over 1 million pounds of beauty waste from landfills and waterways every year. That means we are preventing 2,600 metric tons of carbon dioxide from being released into our atmosphere. To put that into perspective, that means Green Circle Salons and its members have done the equivalent of 3,000 acres of US forests in reducing carbon dioxide in the atmosphere and cleaning the air.
When salons send us their beauty waste, we recycle, recover and re-purpose it - giving beauty waste a new life.
Here's what happens to some of the salon waste we receive:
Excess hair color: When rinsed down the drain, hair color can find its way back into our drinking water and soil. Through our beauty waste recovery program, the excess hair color will instead be taken to a chemical waste management facility where our partners will convert it into clean energy or extract the water, neutralize it and reintroduce it back into the water system - cleaned and ready to be used.
Hair: Unfortunately, hair can't break down in landfill. A garbage bag of hair produces greenhouse gases as it tries to break down, which leads to climate change. Hair needs air and moisture to decompose – This is why it's important that we sort and recover the 63,000 lbs of hair that gets thrown away every day. Some ways we have re-purposed it include manufacturing sustainable bio-composite plastics, hair booms for use in oil spill cleanup, storm water filtration, commercial insulation, as well as humanitarian efforts.
Metals: Although aluminum is infinitely recyclable, the metals used in salons are often contaminated and not accepted by local recycling, so they get thrown in the trash. Over 110,000 lbs of metal are thrown away every day from salons in Canada and the United States – That's over half the weight of a commercial airplane! When salons join our Green Circle Salons movement, their metals can be recycled and turned into new products like bicycle frames and car parts.
Our earth-friendly initiatives aren't limited to a year at a time. Beginning in 2020, we set out on a rigorous five-year plan to analyze and amend our production practices and have committed to a transparent sustainability strategy. Beginning with substituting all replaceable plastic in both products and packaging materials, with post-consumer recycled plastic, our plan extends beyond production.
Our headquarters, for example, located in the Bay Area, California is entirely run on solar energy. We have invested significantly in R&D to ensure that quality is not being sacrificed in the creation of more sustainable products. And, crucially, we share these endeavors with our customers and clients as a way to inspire more eco-friendly choices and to hold ourselves accountable.
Our customers, above all, inspired us to launch these initiatives. Companies don't exist in a vacuum. We share this planet just as everyone else does, and if we are truly here to serve our clients, responsible business practice is inherently part of that.
They're not just part of our brand, they're foundational to it. Olivia Garden is committed to a sustainable future and to improving the social, economic, and environmental well-being of the community. We are dedicated to environmental improvements that foster a sustainable future and lead to social and economic improvements in the community we do business. With this effort, we are making a positive shift to ensure a safer place for future generations. Beyond the direct environmental impact of reducing the amount of plastic produced and subsequently discarded, our biggest hope is to inspire other companies to take on these initiatives as well.
Ecofriendly Products
If you want to make your salon a greener place, here are some recommendations of environmentally friendly products.
Previously stored in plastic tubs, Oligo Professionnel's Blacklight Extra Blonde and Cool Toned Blonde bulk lighteners will now come in practical bags. Their new 2 lb bags are composed of 91.5% less plastic than their tubs. They take up less pace and are much lighter, which allows for a lower carbon footprint during transportation. They will also take up less space in salons for more effective storage. Plus, the new bags are easier to manipulate for optimal efficiency behind the chair. @oligopro
Made from 100% post-consumer recycled plastic, excluding the cushion and bristles, the new Olivia Garden Recycled OG Brush Collection are as versatile as the original OG Brush Collection but kinder to the earth. The Recycled OG Brush Collection consists of handles in four colorways (purple, turquoise, pink and black). The uniquely designed and patented brush cushions are color-coded by their bristle type. @oliviagarden_int
Be gentle to yourself and step into a world of comfort and care with the Elements Collection from Wella Professional. For all hair types and normal to oily scalp, the line is designed with up to 99% natural-origin formulas, formulated without silicones, sulfates or animal-derived ingredients and brought to you in responsible packaging. The Elements Collection includes renewing shampoo, conditioner, mask and leave-in spray. @wellahair
Paul Mitchell's new Bond Rx System contains a patented silicone-protein bond building technology that targets weak and damaged bonds and when activated by heat, crosslinks them to restore strength and resilience to the hair fiber. Bond Rx comes with a 2-Step Professional Treatment that turns any lightening or permanent hair color service into a bond-strengthening treatment without having to modify formulas or add processing time. The system also features a shampoo, conditioner and reparative treatment for guests to bond strong at home. @paulmitchellpro