Courtesy of Olivia Garden
Olivia Garden launched their newest collection to show their support for the LGBTQ+ community — debuting their limited edition OG Brush Pride Collection.
All sales proceeds will be donated to organizations that work to support the LGBTQ+ community.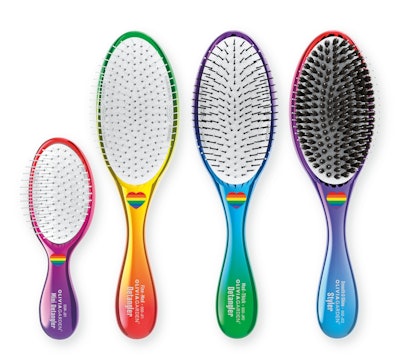 Featuring three detangling and one styling brush option, this versatile collection can be used on wet or dry hair. Joining the Recycled OG Brush Collection brushes, these limited-edition brushes are made from 100% post-consumer recycled plastic, excluding the cushion and bristles. With a detachable cushion for easy maintenance, Olivia Garden continues to offer exceptional quality across all of their collections, with the guarantee that all of their customers have their undying support.
"It's important to show our values as a company. As a brand we want our customers to feel not only represented by our products but supported by our company," Olivia Garden co-owner Anna Maza said. "We see them and want to show them we care about them. These brushes are just a small way we can give back to our LGBTQ+ customers for being proud of who they are."
Categorized by the color of their handles, these OG Pride Brushes vary by bristle size and hair type, making it easy for stylists to find the perfect fit for all of their clients.
Red handle: The Detangler for fine to medium hair is equipped with special bristles for gentle detangling of wet and dry hair.
Green handle: The Detangler for medium to thick hair is designed with bristles that painlessly detangle tough snags in thicker hair with its comfortable ballpoint tips.
Purple handle: The Mini Detangler Brush is small enough to fit in your bag with its compact size and great for when you're on the go.
Blue handle: This styler has a special blend of boar and nylon bristles designed to eliminate frizz and fly-aways while giving hair a smooth, shiny finish.
The Olivia Garden Pride OG Brush Collection will be available for purchase at www.oliviagarden.com as well as at select Olivia Garden retailers.