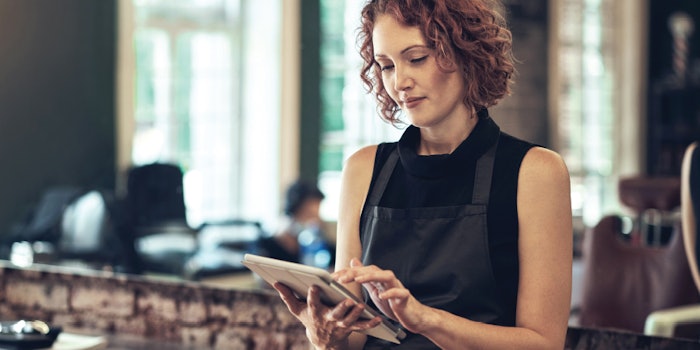 Learn the best practices for finding a salon management system that works for you—and how to effectively implement it in your salon or suite for maximum benefits. 
Businesses across the country are feeling the effects of rising costs, staff shortages and supply chain issues, and salons are no exception. Luckily, modern technology in the form of sophisticated salon management systems offers capabilities ranging from cost cutting to improved client communication—making them a must-have for success.
"One way to increase your bottom line: Utilize salon platform marketing tools," recommends Kelsey Morris (@kelseymorris18), GlossGenius educator and owner of The Sydney Co. Salon in Delaware, Ohio. "But finding salon software can be extremely overwhelming—especially when you are going independent for the first time." Here, experts break down how to make this crucial decision when choosing your salon management system.
A Bottom-Line Boost
Increasing profits, of course, is a major reason for implementing salon software. James Alba (@patronsaintjames), member of the Vish salon professional network and co-owner of B-Hive Organic Salon (@bhiveorganic) in Hillsdale, New Jersey, uses his system to control waste and simplify inventory. "In the past 12 months, we've saved 32 percent in color costs while capturing an additional $4,267 in revenue," he enthuses. "Implementing a salon management platform has enabled us to monitor color usage in a way that simply wasn't possible before. We can see how much is measured out by our stylists, which makes reordering easy, while the system's reweigh feature recognizes waste and automatically recalibrates formulas so our stylists no longer over-mix."
Color management offers dual benefits—both environmental and financial. In fact, Luke Huffstutter, also a member of the Vish salon professional network and co-owner of the two-location Annastasia Salon (@annastasiasalonportland) in Portland, notes that color is his salons' second-largest cost, after wages, so savings in this category are a major win. "We also like that software provides the data and insight necessary to price effectively for profit in every service," Huffstutter adds. "It's an amazing systems fixer. It has shrunk waste but, more importantly, it has allowed me to overhaul our pricing structure by identifying where my biggest costs are, injecting a layer of profitability into every service."
Ultimately, Huffstutter stresses that data is key to making better-informed decisions, and a quality software system helps dig into the meat of salon operations. "We know the cost of our services, our ordering rhythms and what we are actually using on a weekly basis," he explains. "Having that information has helped us reduce our back bar spending by two percent—a notable number at $4.8 million in sales."
The Right Stuff
So you want to add a management platform—how do you find a system that works best for your business? "For us, researching management systems starts with two steps," Huffstutter relates. "First, get demos and bids from three companies. Second, reach out to like-sized companies who are using those systems, and ask for their feedback. We have even Zoomed with those companies and asked them to give us a demo of what they love—and what they struggle with."
You'll also want to determine which features are most important to your business—for example, Morris sought booking software that's intuitive and user-friendly. "One of my favorite features is the omission of a username and password for clients," Morris says. "I find that clients are more likely to book an appointment if they can just hop on and do it without having to reset a password because they forgot the original."
Morris also chose a platform that kept all details in one place, tracking all of her expenses, payments and retail in one app. She is now able to run reports—daily, monthly, quarterly and yearly—so she always knows her profit and loss, keeping operations streamlined and moneysaving. "Finally, I love the ability to send mass emails and texts to clients," Morris adds. "I use this feature for appointment reminders and when I'm looking to fill a gap in my schedule. Every time I send out an email/text with a color opening, I always fill it—and usually make a couple more appointments, too!"
Installation Intel
To effectively implement a new salon management platform in your salon, first embrace a positive attitude. "The key is to get excited about the changes and share that with your clientele," Alba notes. "Staff enrollment is also key to implementation. If they do not understand why it is important to them or how it will help them better serve their guests, it can take systems years to be implemented." Alba believes that technology in the salon, in many cases, is not used to its potential, so he takes a "train, troubleshoot, adjust and pivot" approach with anything new.
Meanwhile, Morris finds that salons' biggest challenge when implementing new business platforms is transferring everything over from the old system. "My advice? Find a platform that will do it for you," she advises. "This leaves you with more time to focus on the other time-sensitive issues that we business owners face every day. Then, seize the opportunity and send out a mass email/text with your new booking platform to let your clients know."
Top Tech
These salon management platforms can help boost your bottom line.
DaySmart Salon, an all-in-one scheduling and business management solution, streamlines daily tasks, elevates the client experience and sustains operations with a cloud-based solution that offers instant access to info with the click of a button. @daysmartsalon
Rosy Salon Software, a cloud-based scheduling and management software suite, offers features to automate processes and streamline day-to-day operations—think in-salon and online scheduling, automated communications, inventory management, POS, text and email marketing, e-commerce and more. @rosysalonsoftware
Vish color management system allows you to accurately measure and mix your color with ease so you can reduce waste and maximize profit. It also saves clients' formula histories as well as integrates with leading point of sale systems to ensure all processes run smoothly without managing multiple databases. @vishsalons
Booksy is a cloud-based app and platform that allows for 24/7 online appointment booking, as well as a comprehensive business management tool for businesses of all sizes, helping improve guest loyalty, frequency of bookings and marketing efforts. @booksybiz
GlossGenius provides beauty pros with everything they need to launch, run and grow their salon, including fast booking (no login needed) and a custom website that helps wow clients. Bonus! The processing rate is only 2.6 percent with zero hidden fees and secure payments. @glossgenius